Posted by Angela Mabray on September 29, 2006 at 12:21 PM
Read on for the September 2006 Crafty Goat customer newsletter, which tells about some great new products and officially introduces this blog...
August Winner Announced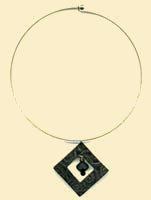 Iris K. of North Bellmore, New York, was the winner of August's monthly drawing at CraftyGoat.com. Iris won a $25 Gift Certificate. Congratulations, Iris!
Don't forget to enter our September drawing for a Black Framed Bead Necklace. Entry deadline is September 30th.
Check Out Our Blog
Crafty Goat's Notes is our new blog -- an online journal where we talk about crafts and crafting. Here's just a sampling of our posts from the past month:
If you're interested in making crafts, this is a great blog for you... Come by and check it out sometime!
New at Crafty Goat
In addition to our very geometrical Black Framed Bead Necklace (the sweepstakes prize for this month) and its accompanying earrings, we also went a little crazy for bottle cap jewelry. Here are this month's new Crafty Goat products:
Close-Out Sale - 55% Off!
Our discontinued items are now 55% off. We want to get rid of these items before the holiday season, so we're offering them for a great price! See all our sale items.