Posted by Angela Mabray on November 7, 2013 at 4:05 PM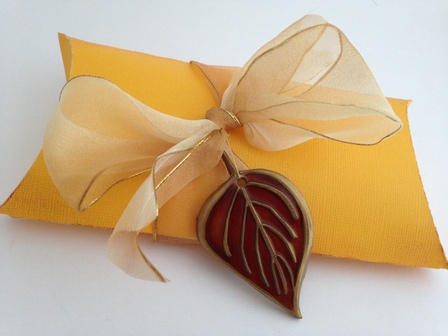 I was sad to learn that my favorite local rubber stamp store was going out of business after many years. Admittedly, I hadn't visited much lately, but I'd sent many folks their way... and I just liked knowing they were there. So on their final week, I had hubby watch the kiddos while I shopped their 75% off sale. I was thrilled to get to stock up on some new colors of alcohol inks, and I found some fun new stamps.
I decided to combine those finds to make some pretty autumn leaf pendants in the style of Isabelle Ceramy-Debray's faux enamel from Polymer Clay Beaded Jewellery (reviewed here). My pendants are actually serving multiple purposes here: I'm using them to decorate some autumn gift bags and pillow boxes, after which the recipients can string them onto a necklace of their choice.
Here's what you need to make this project:
Continue reading "Project: Leaf Pendant with Liquid Clay and Alcohol Inks" »