Posted by Angela Mabray on March 18, 2007 at 2:51 PM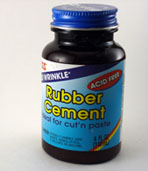 This will probably be a "well, duh" post for most of you -- but I thought I'd share it just in case there's anyone else out there like me.
We stopped by my parents' house on the way back from Austin, and I was chatting with my Mom about her scrapbooking supplies. She mentioned a new glue, and I responded that I could use a good glue. Specifically, I complained that when I'd used rubber cement, it would sometimes peel right off. My Dad looked up and said, "Well, it may have changed since I used it, but that used to be one of its purposes." (I hadn't considered that maybe I learned my hesitance to directly contradict someone from my Dad!) He said that back when he used it, putting the rubber cement on one surface made it such that you could peel it off, while putting it on both surfaces made it permanent.
When we got home, I looked at my bottle of rubber cement. And what d'ya know? It's right there in the instructions: "Low tack: Apply even coat to one surface and press together immediately. To remove, carefully peel from one edge. Stronger bond: Apply even coat to both surfaces."
So I tried it -- and sure enough, that did the trick. The thing is, I'm not the type that's averse to reading instructions -- it's just that I assumed I knew how rubber cement worked. I mean, doesn't everybody...?
Apparently not.
So thanks to Dad for pointing that out. Wonder what other instructions I need to go read now?