Posted by Angela Mabray on August 12, 2008 at 3:28 PM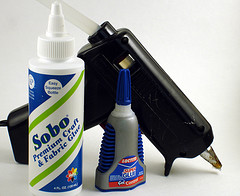 Mickey was making compacts with polymer clay on top, and she e-mailed me to ask which glues work best:
"They say E6000 pops off easily and Crafter's Pick Ultimate Glue also pops off. Any suggestions?"
As the good folks over at This to That will tell you, glue choices depend a lot on what you're gluing together. Not every glue works well for every surface. But here are a few of my favorite glues to use with polymer clay:
Loctite Super Glue Control Gel: This is my go-to glue. It works well for many surfaces, including metals, plastics, and more. I recommend rough-sanding both surfaces before gluing to give the glue a better grip.

One thing I like is that the squeezable hard plastic sides really give you good control over how much glue comes out and where it goes. I'm a lot less likely to glue my fingers together with this stuff than with other tube-based super glues. Plus it doesn't harden quickly in the tube like some other super glues.

Sobo Premium Craft Glue: Sobo is a good choice for gluing polymer clay to paper. It's my favorite way to glue paper panels to the back of my Artist Trading Cards.
Hot Glue Gun: I've recently started using my hot glue gun when gluing polymer clay to cork for coasters. I've found this works much better on cork's porous surface than Loctite does.
Of course, there are lots of other glues out there. While I haven't tried it, I've heard good things about Lisa Pavelka's heat-resistant Poly Bonder super glue. Glass Attic lists a ton of different options on their Glues page. And if you're looking for the ultimate surface-to-surface glue advice site, check out This To That. I usually select "plastic" for polymer clay, then select whatever other surface I'm using. It's not perfect — polymer clay doesn't always work by plastic's rules. But it might give you some ideas.
And I'm sure some of you have a favorite glue. I'd love to hear what it is and what it's particularly good for.