Posted by Angela Mabray on December 1, 2010 at 5:06 PM
I first came across Zentangles a couple of years back while browsing through Swap-Bot's Artist Trading Card listings. I was intrigued by these very bold, very artistic pieces, and I wanted to learn more. However, the only resource available at the time was the fairly expensive Zentangle Kit. I put it on my Christmas list hoping that a wealthy benefactor would adopt me... or that I'd win one of those get-everything-on-your-gift-list sweepstakes. Unfortunately neither happened, and the Zentangle kit stayed right there on the wish list.
So I was pretty excited earlier this year when I learned that Suzanne McNeill had published several very-affordable Zentangle books. For less than $10 per book, you can learn about the Zentangle method, practice quite a few introductory "tangles," and explore some of the possible applications.
While there are three books (Zentangle 3
combines Zentangle-ing and rubber stamping), I'm going to focus my review on the first two: Zentangle Basics
and Zentangle 2
. You probably don't even need to buy both of those... but more on that later.
The Books
First, the similarities. Both Zentangle Basics
and Zentangle 2
start with a brief explanation of what a Zentangle is, provide instructions for doing your first "tangle" (their term for a pattern), and give an overview of ways you can use Zentangles. Each book then has instructions for 25 different tangles, concluding with an oh-so-handy pictorial index. The Zentangle philosophy is interspersed here and there throughout both books, though neither goes much into its origins or the calligraphy artist and monk who created it. Both books are filled with Zentangles: not only are there copious examples, but the doodles have also (very creatively) crept into the chapter headers and taken over the page borders.
Now the differences:
The Basics book seems to be more intended for tweens/teens (and their teachers and parents) than for crafters and artists. There are lots of educational ideas, including some that I thought were perhaps a bit overstated. (Is there proof that it helps with problem-solving, focus, and dexterity? Does doodling a word really help the mind memorize the correct spelling? Part of me would like to see studies and statistics, not just broad claims.) I also felt like this book was a bit uneven in its coverage. It had large finished illustrations of some ideas (like the

U.S.

map where each state is a different tangle) when simply listing the idea would have been sufficient. Then in other areas, it left out information that would have been helpful (it shows a Zen-mandala, but doesn't explain what a mandala is).
Zentangle 2 seems more geared towards crafters. Its illustrations are more about scrapbooks and journals than the educational examples in the first book. I also love that it shows the artist's own inspiration journal, including some of the magazine clippings she used and the sketched patterns she created from them. It gives a nice insight into her creative process.
There's a lot of overlap in the information covered. Both books give all the basics, even using the same patterns for basic instructions. They use a lot of the same examples (scrapbook pages, ATCs, etc.). This overlap can be a nice thing if you're wanting to save money — because either book can stand on its own. Or it can be a bit disappointing if you were hoping for a lot of new and different content from the two books. Personally, I would recommend the first book for teachers and the second for crafters. Of course, they're fairly inexpensive, and they do include different sets of patterns, so if you're really interested in Zentangles, you may find it worth the splurge to get both.
The Instructions
The step-by-step instructions for the tangles are very well-done. The first few have both illustrations and (well-written) text. The steps are very clear and simple to follow. After the first few, they drop the text and just show illustrations for each step. One nice thing about these illustrations is how they emphasize the newly-added lines for each step. The first book uses a slightly bolder line to show the additions. I prefer the way the second book highlights the changes in red, which makes it even easier to see what's new at a glance.
My Results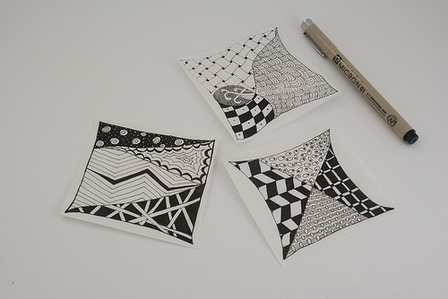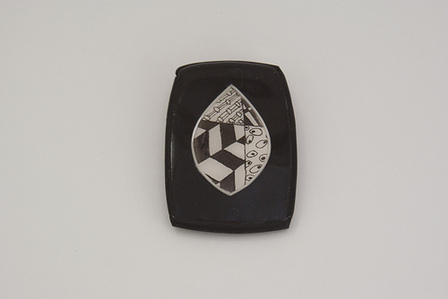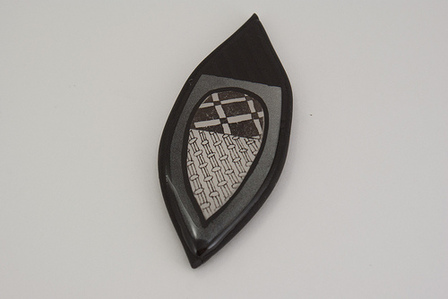 Although I loved doodling as a teenager, I'm generally not comfortable "drawing." So I wasn't sure how I would feel about "tangling." But I found that I really enjoyed it. It did seem to help clear my mind, allowing me to quickly "get into the zone" — and create something cool in the process. While I really wanted to keep working on them, they were easy to stop and restart when I was needed elsewhere. (Sam's almost 2. Need I say more?) And I was pleased with my results from my very first attempt. So I'd say it's a fun creative exercise for anyone — perhaps especially for busy folks who may not have time for more involved activities.
[On a side note, I love that the "basic materials" section is just one page. It's kind of refreshing that it's so easy and inexpensive to get started — unlike many other arts/crafts. Can you imagine a one-page materials section in a polymer clay book?!]
Speaking of polymer clay (you saw that coming, didn't you?), there are some interesting applications for Zentangles and polymer clay. I used Shapelets (no-longer-available plastic templates) to cut out specific areas from photocopies of my Zentangles, then created polymer clay image transfers from those. Some Magic Glos UV Resin
on top gave my pins a glassy finish. (You can check out more fun ways to use Zentangles with polymer clay at the end of this post.)
Summary
Titles: Zentangle Basics and Zentangle 2 by Suzanne McNeill
Price: $8.99 each, plus shipping
Pros:

Inexpensive way to learn this art form.
Step-by-step text and illustrations are extremely well-done and easy to follow.


Cons: (?)

There's a huge amount of overlap in these two books, so you really only need to buy one.
Who It's Good For:

Crafters and artists looking for a simple, inexpensive way to expand their creative outlets.
The Basics book is geared towards tweens/teens and their teachers. The second book is geared more towards artists/crafters.
More Zentangle Fun
Reviewed Materials Source / Disclaimer: These books were provided by the publisher, Design Originals, for review purposes. No further compensation was received. I always strive to be honest and unbiased in my reviews, but your results with the book may vary.