Posted by Angela Mabray on February 21, 2007 at 9:43 PM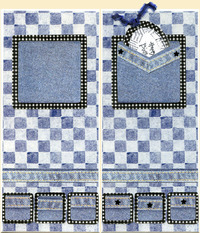 Making a mistake is one thing that makes me want to give up on a craft project. But I've noticed that I also tend to abandon craft projects that are going really well. I'll get to a certain point and I'm happy with it... but if I don't have a clear vision for what the next step should be, I'll stop. I guess I'm afraid I'll mess it up.
I usually tell myself I'm just gonna leave it there for a couple of days and see if the perfect idea hits me. Ya know, divine inspiration. But after a couple of days pass, something more pressing comes along and it gets pushed to the side. And months later I find a pile of nice, promising half-finished works in the corner of the closet.
It doesn't matter how promising they were when I stopped working on them. They're still half-finished. And I suspect that finishing something -- even if it ends up being less-than-perfect -- is better for my inner artist than leaving it unfinished.
So here's an abandoned card I finished in honor of this week's challenge at Inspire Me Thursday. Their "Abandoned Art" theme served as a nice reminder that sometimes you need to get over the fear of future failure and just do something.
Any abandoned artwork in your closet? What caused you to abandon it -- a mistake you made, fear of messing it up, or something else? Leave me a comment -- or add your own entry to the Abandoned Art challenge.
Card materials: Stone Washed Denim-Basic Checks (Provo Craft); Denim Seams Printed Flat Paper (K&Company); Black & Cream Polkadot (Colorbok). Doodles Stamp & Design (All Night Media); Seasons of the Heart Set (D.O.T.S.). Blue fiber (Adornaments); polymer clay stars.