Posted by Angela Mabray on April 3, 2007 at 1:06 PM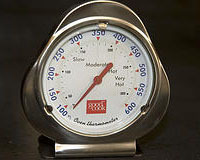 If you're using FIMO clay, you may want to double-check the temperature on those packages. The Polymer Clay People Yahoo! group has been all a-twitter the past week over new package directions showing a different baking temperature (230° F) than is listed on old packages (265° F). After various people contacted the company, the responses started trickling in... Apparently FIMO has changed their recipe and now recommends the lower baking temperature. One email from Amaco (the makers of FIMO ) states:
"We have done quality control tests here at

AMACO

and have found the lower temperature effective in curing all of the

FIMO

® clays."
So it looks like all FIMO clays -- not just the newer ones with the lower temperature listed -- will cure at 230° F. That's nice to know for folks who mix different colors of FIMO together. Course it's still tricky for folks who mix different brands together...
I haven't been able to find anything on FIMO's web site about this, which surprises me. Polymer clay artists are very cautious about temperatures, and a big change like this seems worthy of some sort of public announcement. Since there's no official site, though, thanks to Garie for sharing his email conversation with the company.
Update: The British Polymer Clay Guild posted a link to an April 2008 FIMO press release [PDF], which answers a lot of questions about the change. Here's a quote:
The optimum technical hardening temperature is 110° C. A hardening temperature of 130° C must not be exceeded.
[Conversion note: 110° C = 230° F; 130° C = 266° F]
That should help those of you who are mixing different clays together. You should be fine as long as you don't exceed 266° F.