Posted by Angela Mabray on November 7, 2013 at 4:05 PM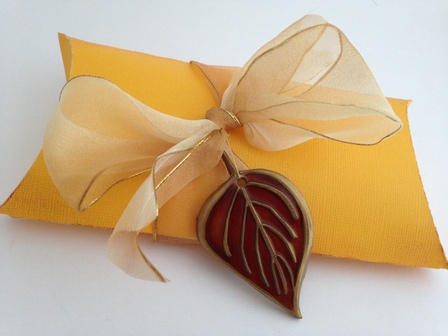 I was sad to learn that my favorite local rubber stamp store was going out of business after many years. Admittedly, I hadn't visited much lately, but I'd sent many folks their way... and I just liked knowing they were there. So on their final week, I had hubby watch the kiddos while I shopped their 75% off sale. I was thrilled to get to stock up on some new colors of alcohol inks, and I found some fun new stamps.
I decided to combine those finds to make some pretty autumn leaf pendants in the style of Isabelle Ceramy-Debray's faux enamel from Polymer Clay Beaded Jewellery (reviewed here). My pendants are actually serving multiple purposes here: I'm using them to decorate some autumn gift bags and pillow boxes, after which the recipients can string them onto a necklace of their choice.
Here's what you need to make this project:
Rubber stamps (more on how to choose good stamps for this technique below)
Super Sculpey, or molding material of your choice
Water spray bottle
Clay blade
Polymer clay, any color * (see Materials Note below)
Pearl-Ex powders in metallic colors *
Paintbrush *
Baking tile
Alcohol inks
Liquid polymer clay, such as Translucent Liquid Sculpey (TLS) or Kato Liquid Polyclay Clear Medium
Toothpick
Straw or needle tool for creating pendant hole
Heat embossing gun
Materials Note: Some special effects clays have mica powder pre-mixed into them. While I preferred the results when I brushed Pearl Ex powders onto the clay surface, you could use a special effects clay and skip that step. I show both variations in the picture at the end of this post.
I hope this month finds you with many things to be grateful for. I would love to hear from you... What are you creating?