Posted by Angela Mabray on August 7, 2007 at 9:10 AM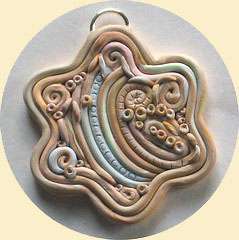 Polymer Clay Central has announced the August 2007 Challenge theme: Filigree.
Definition
Not sure what filigree is? Here's a definition from the
Polymer Clay Glossary
on
Eugena's Creations
:
"Filigree - originally, a jewelry technique when an intricate design is formed using metal wire. Polymer clay filigree is formed by strings of clay applied in coils or freeform shapes onto polymer clay or other surface to create a textured design."
Tutorials
Tips & Tricks
Inspiration
Mail your entries in by August 15, 2007, for a chance to win one of three prizes. Good luck!