Posted by Angela Mabray on April 9, 2009 at 2:35 PM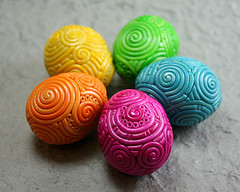 If you're planning on doing some polymer clay Easter egg crafts this holiday weekend, you may be wondering how to get started. Boiling eggs works for kids' crafts, but not so much for something you want to last a while! Here are three ways to prepare your eggs before covering them with polymer clay:
The old-fashioned way. Blowing eggs out is the tried and true method. It works well and leaves just the tiniest of holes... but it can also be time-consuming and headache-inducing. Crafty Daisies has an excellent tutorial on hollowing out eggs.
Operation: Egg. If blowing out the egg is not your thing, try operating on it. The book Altered Curiosities: Assemblage Techniques and Projects by Jane Ann Wynn recommends this handy method. Score the egg, then pop out the section you scored. Wynn recommends sealing it with epoxy to strengthen the egg and make it easier to work with (liquid clay should work just as well if you don't have epoxy). Bonus? This method is perfect if you want to create a diorama inside the egg. Hiding interesting things inside gives a whole new dimension to Easter egg hunting!
Fake It. Both of those methods sound like too much work? Just use plastic eggs. It's a great way to recycle last season's mismatched egg halves. While lots of polymer clay crafters have successfully used various plastic eggs in their ovens, it's best not to assume anything. Test your plastic egg in a well-ventilated oven at clay temperatures

BEFORE

you invest a lot of time into covering it, just to make sure it won't melt. (Prefer not to chance it? Wooden or paper mache eggs are also options.)
Now that your eggs are prepped and ready, check out these ideas to get inspiration for your own polymer clay egg creations:
Here's hoping you have a "hoppy" Easter!