Posted by Angela Mabray on February 15, 2008 at 12:13 PM
A few days back, Lisa at Polka Dot Creations invited us to explore her polymer clay toolbox. She showed several of her handmade tools and asked for folks to share their own ideas.
Mine are less handmade than creatively repurposed from their original uses. (Which is my nice way of saying I've stolen them from whatever part of the house they were originally intended for. Hubby thinks this is rather bird-like of me, stashing away shiny things for my craft "nest.") Still, I thought I'd share them with you & see if you had any of your own creative tool tips to add...
First, allow me to introduce my...
Pumice Stone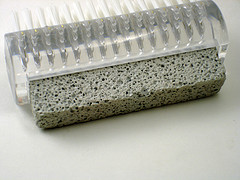 What It's Good For: Original use? Smoothing skin. Polymer clay use? Adding texture. The organic look and random patterns of the pumice stone make it wonderful for texturing polymer clay.
How to Use It: Use the pumice stone on an uncured sheet of polymer clay. Press into clay to create a rough texture that's ideal for nature-inspired pieces and certain baked goods.
Where to Find It: Your bathroom. Inexpensive gift sets on after-Christmas sale. Beauty supply stores. Amazon.
Similar Ideas: Pumice is just a type of volcanic rock, so if you have lava rocks in your flower garden, give those a try. You could also use a Loofah sponge, since it has a similarly organic pattern.
Next time I'll show you another re-purposed tool, this time from the kitchen. Til then, be sure to check out the comments on Lisa's posts for links to other crafty tool ideas.