Posted by Angela Mabray on April 21, 2009 at 10:27 AM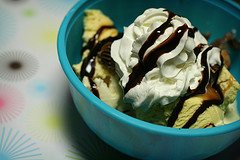 Violette Laporte's Inside Out blog just had a good tip for making mokume gane easier:
Instead of curving your blade to do the shaving of thin slivers, I like to curve the polymer clay sheet and use a straight blade. To give my clay sheet a gentle curve, I place it on a large jar (or an ice cream container).
Read the whole thing here: Tip # 31
Not only does Violette give us a way to make mokume gane and mica shift easier... but she encourages us to empty an ice cream container first in order to do so. Best tip ever!
For another neat mokume gane trick, check out Tonja Lenderman's Scrap Polymer Clay Mokume Gane Sheet tutorial (found via CraftGossip Polymer Clay). Instead of stacking multiple sheets of clay, she recommends chopping up scrap clay to make a single sheet. Fun clay recycling tip — and just in time for Earth Day!