Posted by Angela Mabray on May 9, 2009 at 8:29 AM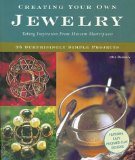 I occasionally watch decorator shows on HGTV, with the hope that one of these days I'll apply their lessons and spruce up my surroundings. One of the shows Tivo faithfully records for me is Sensible Chic, where they take a high-end designer room and recreate it "at a fraction of the cost."
That's kind of what Cris Dupouy's Creating Your Own Jewelry: Taking Inspiration from Museum Masterpieces
does. Dupouy gives instructions for re-creating 35 museum-inspired jewelry pieces, using polymer clay, semi-precious stones, acrylic paint, and a few jewelry findings.
The Inspiration Pieces
Drawing her inspiration from as far back as the 7th century B.C., Dupouy uses both actual jewelry pieces and jewelry shown in paintings. Each of the projects starts with a photo and the history of the original piece. This is a nice touch, and would make the book enjoyable for art history buffs. (Art lovers would also enjoy Sue Heaser's Polymer Clay Mosaics
, reviewed here, for the same reason.) It made me realize how little I've paid attention to the jewelry in artwork — even the paintings I was familiar with, I hadn't noticed their jewelry. There's a lot of possibilities for inspiration there, far beyond the museum pieces that are in this book.
The Projects
The book includes various levels of projects, but since it's laid out chronologically, the projects aren't in order from easiest to hardest like in many books. I like that Dupouy includes time estimates for each project, breaking it down into preparation time (ranges from 15 minutes to 3.5 hours), baking, cooling, patina and drying time.
Instead of using step-by-step photos for the projects, the book uses gorgeous hand-drawn illustrations. I personally liked this — I thought it was a unique touch that fit with the artistic theme of the book. It might make the instructions more difficult for a beginner to follow, though.
The projects are beginner-level, although the book doesn't cover clay basics that beginners might need to know. Still, there's nothing too complicated here. In fact, in many ways it's the same basic idea again and again. The stones and settings vary, but the technique is always about the same: form the setting from black clay, add texture and some filigree-style embellishments, then bake and patina. Of course, what's not to love about the magic of patina on black clay? (I know I still get tickled when it works well!) So beginning clayers may find themselves hooked, doing project after project. But there's not a lot here for intermediate- and advanced-level clayers, except inspiration.
I'm a bit of a clay purist: one of the things I love is using polymer clay for faux techniques. So I was disappointed that this book didn't include faux instructions for any of its stones — even things like turquoise that would be fairly easy to do. Of course, if that's your thing, you could always combine the jewelry projects in this book with the faux techniques in a book like Irene Semanchuk Dean's Faux Surfaces in Polymer Clay
to make some really cool faux projects.
My Results
I tried three projects from this book, and was pretty happy with the results on all of them. I chose to create my own faux blue lapis and turquoise stones with instructions from another book, rather than buying those stones. Here are pictures of my end results:
Summary
Cons:

Not a lot of variety in techniques.
The instructions cover the settings only. No faux techniques for stones here.
Who It's Good For:

Beginning clayers who want to try their hand at some simple jewelry-making projects.
Artists who enjoy reading about (and getting inspired by) historical jewelry pieces.