Posted by Angela Mabray on April 3, 2010 at 4:23 AM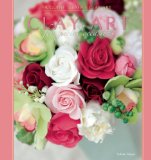 I have to admit, I got interested in Yukiko Miyai's Clay Art for Special Occasions before I realized it was intended for use with air dry clay; otherwise, I might not have chosen it. Air dry clay doesn't appeal to me for the same reasons metal clay doesn't. I'm spoiled by polymer clay. I don't like having to re-train myself to work quickly, use damp cloths, and store excess clay in airtight containers to prevent it from drying out. I tend not to think it's worth the extra effort.
But the author's mother developed Claycraft by Deco, the specific air-dried modeling clay recommended throughout the book. As a result, that brand of clay and all the related accessories are pretty ingrained in the book.
Still, I hoped that the principles would apply to oven-bake polymer clays, and if they didn't, I'd been meaning to give air dry clay another try anyway. So I continued reading and trying projects despite initially not having the "correct" clays and tools (with varied results... but more on that later).
The Book
The book itself is one of the nicest craft books I've seen. It's a hardcover with a hidden spiral spine. I personally think all craft books should be bound this way: it means they'll lay flat and stay open to a particular page, which is very handy while you're working on a project. (Just ask my husband how excited I was to find out
my book
would be bound this way!)
Not only is the binding nice, but the photos are simply gorgeous. The flower projects are all illustrated with stunning floral arrangements. I doubt anyone would look at these arrangements and think they were anything but real flowers. They are simply beautiful. The accessories they use — things like the stylish vases and bowls that hold the arrangements, or the artificial stamens, floral tape, and plastic greenery they use in and around the flowers themselves — add to the realistic appearance.
However, that leads me to my first gripe about the book. All of the beauty shots show elaborate arrangements made up of lots of flowers, some upwards of 200. The step-by-step photos and instructions show you in great detail how to make one flower. They tend to stop with the formation of that single flower, though, without going into tips on how to finish the arrangement. I've always wanted to know more about the art of arranging flowers, and I think it would be nice if this book included a few pointers on doing so in a pleasing way. Not only that, but I honestly can't imagine creating 200 flowers for any project... special occasion or not!
For those of us who are new to air-dry clay, the book has a brief primer on the basics. There are photos of the tools in Deco's Claycraft line, many of which are called for in the materials list for the books' projects. There's also a nice set of photos showing proportions for mixing different colors. The author has a previous book, Clay Art for All Seasons
that, based on the Amazon reviews, may go into the basics a bit more. (I haven't had the opportunity to check it out, though.)
The Projects
There are 18 projects in the book, covering a range of special occasions:
Bridal Shower

Cherry Blossom Table Arrangement
Peony Favor

Wedding

Ranunculus Bouquet
Tuberose and Rose Corsage
Hydrangea / Flower Girl Bouquet
Gardenia Cake Top

Baby Shower

Baby Shoes
Butterfly Cards

Spring

Woven Basket
Bird Ornament
Poppy and Freesia Flower Arrangement

Summer

Cymbidium Orchid Flower Arrangement
Anthurium Table Arrangement
Torch Ginger Hairpin

Fall

Dahlia Centerpiece
Pear and Apple Arrangement

Christmas

Stocking Ornament
Reindeer and Christmas Tree Figurines
The book is heavy on floral projects, and those are very nice. Aside from the bird ornament, which I loved, I was a little less taken with the non-floral projects. On the other hand, those are probably the projects that would translate best to oven-bake polymer clay.
Each project features a gorgeous one-page beauty photo, then lots of small, but clear, step-by-step photos. I felt like the photos were well done, showing a nice amount of detail. The written instructions are laid out as captions for the photos, and I was a little less impressed with those. Some projects needed clarification. For example, this is the seventh step of the first project:
bq. "Take excess clay at base and glue end of 3-inch long #28 wire and insert into base of flower."
I think I was supposed to remove the excess clay, based on similar instructions on another project. But the wording and the run-on sentence made that a little confusing. This book would have really benefitted from one more round of editing to check for clarity.
My Results
I tried the bird ornament and two of the simpler flowers. Though it didn't strike me on the first read-through, as I was working through the steps, I felt like I needed more information. For example, the cherry blossom petal instructions tell me only to "gently roll out each section with toothpick to form petals." Which way(s) should I roll? How thin should the resulting petal be? What do I do with the middle area between the petals? These details make a big difference in the finished flowers' look, so it would be nice if there were a bit more clarification.
Another area where I could have used more instruction was with the floral tape. I don't guess I'd ever used it before, and I was surprised at how non-sticky it was. I kind of got the hang of it, but I couldn't get my wrap to look nearly as nice as the author's. Since she uses the tape in various projects, it would be nice to have some tips on making it look natural, such as how to create a thicker part at the base of the flower that tapers nicely to the stem.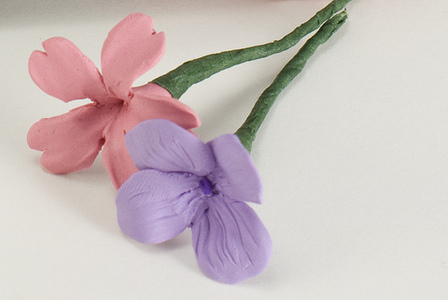 I originally used oven-bake polymer clay to make a couple of the simpler flowers. I was not happy with my results. The clay didn't hold the shape nicely, and the petals looked warped instead of thin and delicate. While it may be possible to get similar results with oven-bake polymer clay, you won't be able to follow this author's exact methods to do so. The two materials behave too differently.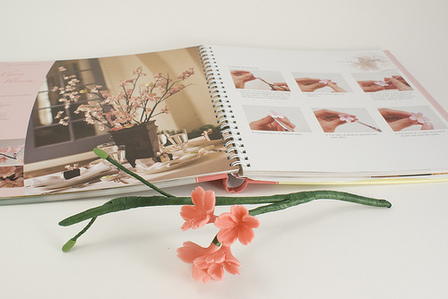 So I splurged on some Craft Porcelain, an air dry clay by Amaco. (My previous packet of Makin's air dry clay had long since dried out.) Using this clay was a huge improvement over the oven-bake clay. I like the slight translucence the craft porcelain has, even after I mixed acrylic paints into it to add color. This definitely adds to the flower-like quality. And using the recommended Claycraft by Deco clay might give even better results: we all know that some oven-bake polymer clay brands work better than others for a particular project. Still, I was pleasantly surprised with the craft porcelain. I didn't dry out as quickly as I expected, and it seemed strong after curing. There may be more air dry clay in my future after all.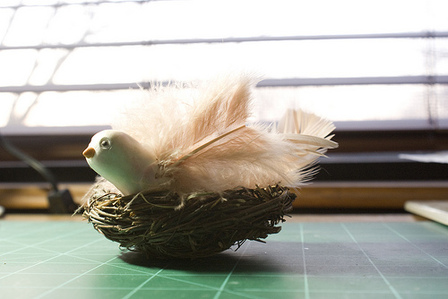 I used UltraLight Sculpey for the bird project, and I felt like it worked well enough for this (very simple) sculpture. I loved the book's idea of adding real feathers to the bird and placing it in a grapevine nest.
Overall, this book gets a slightly favorable rating from me. It's full of absolutely beautiful, inspirational photos. But I didn't find the techniques translated to (my preferred) oven-bake polymer clay as well as I'd hoped. And the beautiful arrangements that are portrayed would take far more time to create than I'm willing to spend.
Summary
Pros:

Absolutely beautiful book with nice spiral binding.
Nicely-done step-by-step photos.
Cons:

Floral projects are very time-consuming to create.
Doesn't give much info on arranging the flowers.
Who It's Good For:

Fans of air-dry clay, or anyone else who wants to try their hand with air-dry clay. (These directions won't work as well with oven-baked polymer clay)
Patient crafters with

LOTS

of time on their hands.
Reviewed Materials Source / Disclaimer: This book was provided by the publisher, Island Heritage Publishing, for review purposes. No additional compensation was received for this review. I always strive to be honest and unbiased in my reviews, but your results with the product may vary.