Posted by Angela Mabray on October 20, 2009 at 7:01 AM
Ever since I saw my first calaveras at a local Mexican restaurant, I've been intrigued by Dia de los Muertos, or "Day of the Dead." Celebrated throughout Mexico at the beginning of November, the holiday takes a festive approach to death. Families remember loved ones who have passed away through personalized altars, parties, and picnics. The belief is that, as long as a person is remembered, they never truly die. The calaveras (decorated skeletons) that adorn the holiday have a humorous look, not spooky like Halloween skeletons. They're more like caricatures of the person, featuring clothes and hobbies that the person enjoyed. I think it's a neat way to celebrate the lives of those lost.
Since I've been wanting to try making Dia de los Muertos crafts using polymer clay, I was a little surprised to find that there's a book featuring both things... and it's been out more than a year! Day of the Dead Crafts
by Kerry Arquette, Andrea Zocchi & Jerry Vigil, is a fun and crafty introduction to the imagery of this holiday.
The Book
The book starts with a history of the
Dia de los Muertos
holiday, which dates back to the Aztec Indians and evolved over time. The intro also talks about the meaning behind the various symbols. I like the personal emphasis: it's folk art, so it's okay for it to be raw. There is no right or wrong ways to create these pieces.
The book includes tons of examples of different styles of work. I love that these examples are great for sparking new ideas. However, the photos are mostly from a Hollywood festival. I would like to see more photos from Mexico to get a more authentic sense of the holiday.
The Projects
The subtitle says there are more than 24 projects (does that mean 25??) in this book. It seemed like many more, though, since they include detailed information for various examples, which can be almost as good as a step-by-step project. In addition to the polymer clay projects, there were also projects or detailed examples from the following media:
Paper Mache
Paper, photo & collage
Paint
Gourd
Baking (sugar skulls recipe)
Bottlecaps
Microscope slides
Printmaking / linoleum block print
Craft metal embossing
Glass painting
It's really a cool variety of techniques. The downside is that, with so many projects, there's only room for 2-4 pages of instruction per project. This means the instructions sometimes seem lacking. If you already have some familiarity with a process, you'll be fine... otherwise, you might need to do some Googling. Still, it's perfect for a craft dabbler, someone who's interested in trying their hand at a variety of projects.
There are 8 polymer clay projects, including:
Polymer Clay Calavera
Dressed Male Calavera
Dressed Female Calvera (includes hair instructions)
Marigold Beaded Necklace with flower cane and checkered beads
Three Oriniginal Charms (painted polymer clay)
Fabric Jewelry (polymer clay pendant with decopaged fabric on top)
Marigold & Skull Pendant
Photo Transfer Necklace
Sculpting the skeletons from clay is an important part of the book, and I think the instructions are pretty decent. It introduces the idea of proportion, including a handy chart showing correct ratios for body parts. It also introduces armatures, though I think more in-depth information on armatures would be useful.
The polymer clay sections have limited instructions, though if you're a regular reader of this blog, you're probably knowledgeable enough about polymer clay to do fine. It did bother me that they primarily used Super Sculpey, then painted the baked pieces, instead of using colored clay. One spot in the book even said that "most artists prime their baked polymer-clay creations with a coat of neutral-colored paint" first — a statement I take issue with. Still, there was some good information for the clay newbie, such as the "Dealing with Disasters" sidebar. It talks about the common problems that can occur with polymer clay, and how to fix them — things like fingerprints, burning, broken pieces, etc. This kind of section would be a good addition to most books.
My Results
My calavera incorporates ideas from various photos in the book. I pulled inspiration from examples with glasses, hair curlers, and dogs, then I followed the basic instructions for a dressed female calavera. I will note, though, that I felt I needed to reference other books for parts of my sculpture. The
Day of the Dead Crafts
book said only to "pinch small pieces of clay to form the hands," then they have you detail the bones with a paint pen. If you want to sculpt individual fingers, as I did, you may want to get help from another source. I used Maureen Carlson's
How to Make Clay Characters
for its hand instructions and for clothing details.
The skeleton I made is based on my grandmother, who passed away earlier this year. Click on the photo for more description.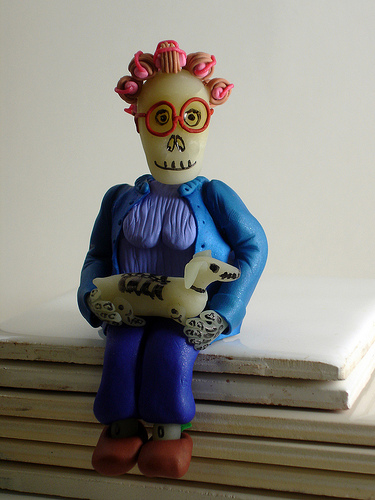 Summary
Cons:

Most of the photos are from a

U.S.

festival, which makes one wonder if the examples are authentic or Americanized
Project instructions are sometimes bare-bones (sorry!), forcing you to find other sources for more advanced information.
Who It's Good For:

Anyone who wants an approachable introduction to the Day of the Dead holiday and its imagery
Crafters who enjoy trying projects in different media.
Reviewed Materials Source Disclaimer: I purchased this book. No compensation was received for my review. I always strive to be honest and unbiased in my reviews, but your results with the product may vary.