Posted by Angela Mabray on January 13, 2010 at 10:55 PM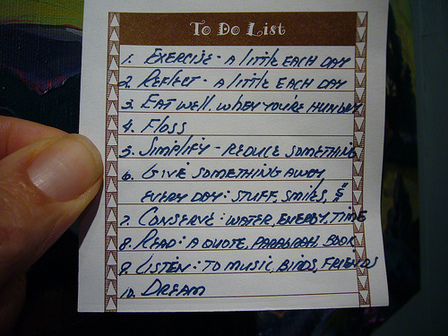 I know it's late to be posting New Year's resolutions, but I'm the type who has to let ideas simmer a while before I decide on them. Goals are too important to rush into! :-)
In the tradition of one-word resolution replacements, I'm choosing simplify as my word of the year. I'm feeling overwhelmed by the physical clutter around me, so that's part of the incentive. But my life also feels busy and cluttered. While some of that busy-ness is good (book deadline, That's Clever episode, and a little boy who now has his legs under him), some of it's unnecessary and negative. I want to focus on simplifying the things I can, the things that add stress and complication without bringing joy.
One reason I mention this is that Craft Test Dummies wrote a useful post about de-cluttering your craft space, including tips on charities who would appreciate unwanted supplies and even finished craft projects. Purging the craft room is a little ways down on my list, but I thought I'd share the link for any of the rest of you who are de-cluttering or cleaning as part of your New Year's goals.
Anyone else doing a word for the year? I'd love to hear about it!