Posted by Angela Mabray on March 26, 2010 at 6:12 PM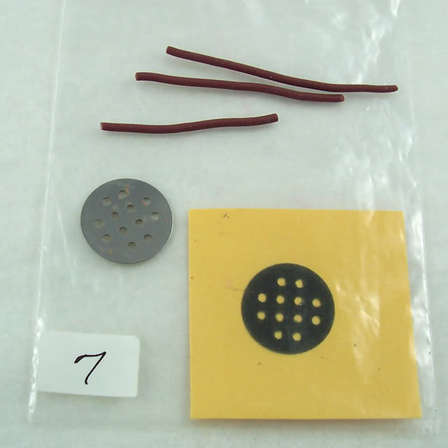 A couple of years ago, I posted about my Extruder Disk Cheat Sheet. To make it, I put all my extruder disks on the scanner, then printed the resulting scan on a transparency sheet. I glued samples of each disk's extrusions on the transparency and used the "cheat sheet" to help me figure out which disk to use for a particular project.
Carolyn Good of 2GoodClaymates took this idea and ran with it... and I think the result is an improvement. You can see her post on the Polymer Clay Smooshers blog. What I like about her version is that the use of plastic baggies allows her to remove those sample extrusions. This makes it much easier to try them out for size on a particular project. (That, plus keeping polymer clay pieces glued to a ultra-flexible transparency sheet is kinda tricky.)
Thanks to Carolyn for sharing her suggestion!