Posted by Angela Mabray on February 25, 2011 at 1:45 AM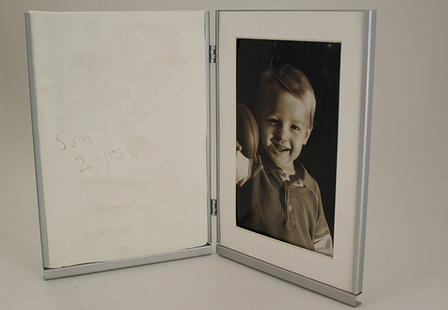 Sam celebrated his second birthday a couple of weeks ago. The occasional tantrum and two-year-old stubborn streak aside, we're having a great time. As he grows and develops his own personality, we find ourselves enjoying him more and more.
But I've gotta admit something.
If you looked at his baby book, you'd think he was still 3 months old. That is, if you could find his baby book. I know generally which closet it's in... but I haven't actually seen it since, well, who knows when.
I know I should be keeping track of the important things... and I do have various notes and photos. They're just spread out on Twitter, Facebook, Flickr, and a couple of different hard drives. I've always had a mental block against scrapbooking — I think because I hate to commit my memories to embellishment & paper styles that will so quickly look outdated. I just assumed that some maternal instinct would take over and I'd become queen of the baby book. But that hasn't happened.
So I was kind of proud of myself for remembering to buy (and use!) the Sculpey Keepsake Clay Frame Kit on Sam's 2nd birthday. By golly, we may not know what happened between months 3 and 24, but we do have his 2-year-old hand prints preserved for all time. I'm hoping that counts for something.
Maternal pride (such as it is) aside, I wanted to share my thoughts on this kit for any of you who might be considering using it with your little ones.
Sculpey Keepsake Clay Oven-Bake Clay and Frame Set
The box comes with the following:
4.5 ounces of white clay
plastic clay roller
plastic pointy modeling tool
metal hinged double frame
white photo mat (fits a 4"×6" or 5"×7" photo)
clear plastic pane to protect the photo and mat
It also includes these two things that I didn't include in my photo:
the instructions, which are printed on the inside of the box
... and a perforated cardboard spacer sheet to make the photo fit snugly in the frame. Apparently. (More on that below.)
I set Sam up in his art area and gave him a little ball of the clay to play with while I kneaded and rolled out the clay sheet for the frame. Sam's not big on getting his hands dirty (we have to use paintbrushes with our fingerpaints), so I hoped he'd try out the clay first, making him more receptive to the hand print part.
The instructions say to start with clean hands and knead the clay for 2 minutes. When I'm reviewing things that are intended for clay newbies, I try to follow the directions fairly closely. So even though this was kind of a large block of clay to knead all at once, that's what I did. Then I used the included roller to roll out the clay until it filled the frame. I'm accustomed to using a pasta machine to roll clay out, so I didn't like having to do this the hard way. (Clayers could probably stack 2-3 sheets rolled out at the thickest setting to get the right thickness... but again, I was trying to use the kit the way someone new to clay would.) I think the size of the plastic roller made this process more difficult than it needed to be. If they had included a larger roller — heavier or wider, or even just longer than the frame so I wasn't having to make multiple passes — it might have been easier to get the clay completely level and even with the top of the frame.
After I had a fairly level sheet of clay, I brought it over to Sam. I noticed he'd completely ignored the clay ball, opting instead to color with his crayons. I tried explaining what we were doing and demonstrating by pressing my hand into the extra clay, but he was very reluctant. When we tried the first hand print, he pulled his hand away as soon as things got squishy. Not a good impression at all. He let me try with the second hand, though, and then he decided it wasn't so bad. Still, I wasn't thrilled with the results, so I rolled the clay out again. He didn't mind the clay the second time around, but I still wasn't happy with the impression. I tried pressing his hand down harder, but I started to worry I was going to hurt him. The flawless, deep impressions from the beauty shot on the box just weren't happening for us. In fact, the only reason the hand prints show up as much as they do is that the instructions forgot to mention (and I didn't think of it until too late) that I needed to clean his hands, too. Think how hard it is to keep white clay clean anyway. Now think how dirty little boys' hands get. Yeah, kind of a mess.
I almost broke my "use what's in the box" review rule to pull out some of my stamps for the name and age. I kinda wish I had. Instead, I used the modeling tool they included, and I wasn't thrilled with the amateurish look that gave. But at the point where you've rolled out the clay and gotten a 2-year-old to cooperate with hand prints multiple times, you're not just about to start again just so you can re-write the name and age!
Baking was a piece of cake (sorry!), as was the assembly. The only thing I didn't care for was the next-to-last step where they told me to carefully remove the perforated cardboard spacer sheet from the cardboard package insert. Apparently part of that utilitarian-looking cardboard packaging I threw away was a spacer essential to getting my photo to fit snugly in the frame. Partially my fault, sure. And I've got other things that'll work as spacers. But it would have been nice if they'd made it a little more obvious I was supposed to keep that piece.
What I Liked
Convenience. A parent or grandparent with no prior clay experience could buy this kit and have everything they need. Clayers who already have the tools may be interested, too, since it includes a very nice double-sided frame, mat, pane, and the clay. Sure, you could buy the supplies separately to put together your own project, but it can be nice to have everything you need in one box. (On the other hand, you do pay for the convenience of having everything you need in one box. While $20 may not be outrageous, you'll definitely want to use one of those handy-dandy 40% off coupons.)
Well-written Instructions. I felt like Polyform did a good job on the included instructions and illustrations.
What I Didn't Like
The Roller. Including a larger or heftier roller — or even just suggesting folks use the side of a big empty jar instead — probably would have made the rolling-out process easier.
The Results. I didn't feel like the clay took a good hand impression. I thought maybe I would have some clay on hand that would work just as well, but even my UltraLight was firmer than the included clay. Maybe they just need to give us tips on getting better impressions — perhaps a certain position to have the kid hold their hands? I also wasn't crazy about the way my hand-carved name and age looked. I'm sure it wouldn't be cost-effective to include letter and number stamps in the box. But maybe include nice labels to stick onto (or slide into) the frame? Or a polymer-compatible pen to write on the clay? Or maybe even just some tips on how to best use their modeling tool to write on clay...?
Overall, I'm glad I bought the kit. I'm not entirely happy with the results — in fact, I'm still tempted to pry the clay out of the frame and try again (definitely wouldn't do the hand-carved name this time around). But even just like this, it looks pretty nice. And it makes me feel slightly less bad about all those empty pages in Sam's baby book. :-)
Product Details
The Sculpey Keepsake Clay Oven-Bake Clay and Frame Set is available for $20 at Michaels. It comes in White (reviewed here), Pale Pink, and Pale Blue. Other products in the Keepsake Clay line include the Handprint Ornament Kit, Pawprint Ornament Kit, Family Tree, and Zoo Growth Chart.
More clay for the kiddos! If you liked this post, you might also be interested in my review of the Fun Forms Piggy Bank and the Bobble Buddies (coming soon).
Reviewed Materials Source / Disclaimer: I purchased the Sculpey Keepsake Clay Frame Set for personal and review purposes. No compensation was received. I always strive to be honest and unbiased in my reviews, but your results with this product may vary.