Posted by Angela Mabray on December 3, 2013 at 9:35 AM
We had a small Elmo-themed birthday party for my daughter's second birthday this past weekend. I'd planned to share a tutorial here on how to make a polymer clay cake topper... but that topper didn't quite make the cut. So instead I'll share some of the other fun decorations and activities we came up with.
Making the Sesame Street Shapes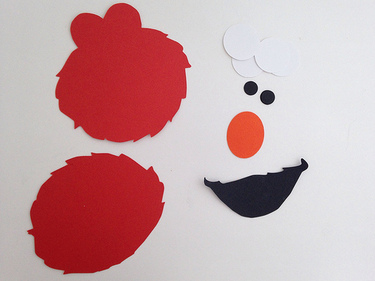 I've been using my Silhouette Cameo
a lot lately, usually for little fun crafty things to do with the kids. And even though I was initially drawn to this particular cutter because you could use their software to design your own shapes to cut out, I honestly haven't had much need to do that. Their online store — with its $0.99 shapes — has had everything I could possibly need.
But it didn't have Elmo. Or Sesame Street. Or anything close.
So I tried my hand at tracing and creating my own shape, starting with a clear Elmo image I found via Google's image search. There's a video tutorial about tracing here if you're interested, but to be honest, it may have been more trouble than it was worth for something like Elmo made up of a lot of basic shapes. Perhaps it was my inexperience, but I ended up having to redraw a lot of things with the shape tools to get the clean lines I wanted.
After I got the shape template worked out, I used the machine to cut out red, blue and white monster heads (turns out Cookie Monster is similar enough to Elmo to use the same head shape), black mouths & eyeballs, white eyes, and some orange noses. I did stretch out and simplify the mouth just a tad for Cookie Monster, but it wouldn't be absolutely necessary. I made the first head the right size to use for a mailed invitation (about 3.75" tall by 4.5" wide), and I found that I liked that size for most of the other things I would need.
Things to Do with the Shapes
Elmo Birthday Party Invitation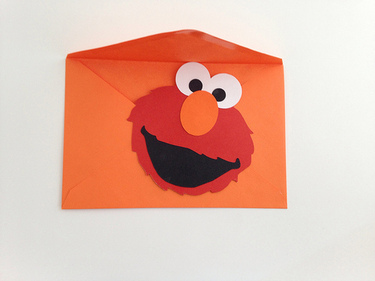 I cut out and glued together a paper Elmo to use for the invitation, then glued a blank white cardstock monster head on the back. There I wrote: "Won't you tell me if you'll come… if you'll come to my Sesame Street party?" along with the party details. [H/T to Theme A Party for the invitation wording idea. Lots of other great ideas there too!]
Elmo & Cookie Monster Felt Board Shapes
We've been using our felt board a lot lately, so I decided to make a few special things for the big day. This is the one place where I used a larger version of my Silhouette Studio Elmo shape, enlarged to fit a good percentage of my sheet of craft felt. I used my Cameo to cut the shapes out of cardstock, then used the cardstock as a pattern for cutting them out from my felt piece. (I've read that some people actually use their Cameos to cut felt, but I haven't given that a try yet — too worried that the fibers would ruin my mat and blade too quickly to be cost-effective.)
I went ahead and glued the eyeballs onto the felt eyes for simplicity — small black circles are too easy for little ones to lose. I free-handed some simple cookie shapes for Cookie Monster, and used a brown Sharpie to draw on the chocolate chips.
The felt guys were a big hit. The kiddos rearranged these several times, and my daughter enjoyed "feeding" Cookie Monster.
Elmo Goody Bags and Cookie Monster Snack Bag Toppers
For the goody bags, I glued Elmo shapes onto a small red gift bag. I added a few themed items, including a clear bag filled with mini chocolate chip cookies. I stapled those shut and taped on a Cookie Monster bag topper. These were a hit too. The birthday girl got a kick out of stealing the cookies from Cookie Monster's bag.
Elmo Craft for the Birthday Party Guests
I wanted a simple themed activity for little hands, and this was perfect. I gave the kiddos glue sticks, various monster parts, some optional paper plates to glue pieces onto, and some room to work. They enjoyed coming up with variations.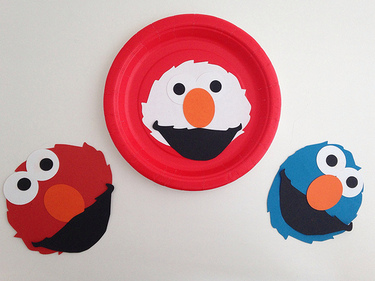 My daughter spent far longer than the other party guests working on this. She created 3 monsters: one with lots of eyes; one with noses; and one with mouths. Quite organized monsters they were!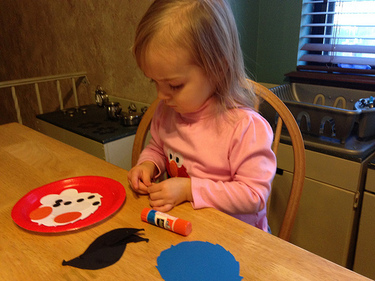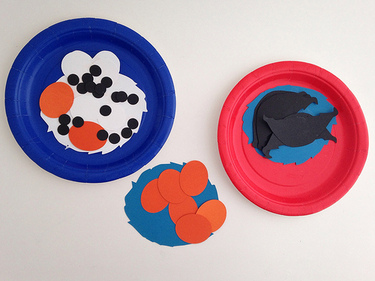 I would have liked to have had a few more shapes and colors of heads, noses, and mouths available for this activity. Grover and Oscar have a similar head shape to Elmo; they just need different features. Others have different (simple-to-create) head shapes, but share similar eyes, nose or mouths to other monsters. It's just a matter of how much time you have! And as you can see, I got a lot of mileage out of creating just these Silhouette shapes.
Other Sesame Street Party Decorations
Here are some of the non-monster-shape decorations we used for the birthday party.
Oscar's Trash Can
We made "Grouch Juice" (ours was equal parts white grape juice and Diet 7-Up, plus green food coloring, but you could also use green Kool-Aid). We decided to take the idea a step further and serve it out of Oscar's trash can. I found a mostly straight-sided glass ice bucket, then wrapped it with aluminum foil. I also cut and covered a cardstock lid and a wire handle. I added lines with a Sharpie, taped it all down, and made a "Grouch Juice" sign. Easy, but I loved the way it turned out!
Snacks
I forgot to take a picture of our snack table, but we used a few of the food ideas I saw on Pinterest. Goldfish ("Elmo loves his goldfish!"), cookies ("COOKIES!"), and then some veggies and snack stuff for the big folks.
Sesame Street Cake
I iced the cake with white & green frosting, then added Sesame Street Cupcake Rings
around the sides. I liked that this gave each piece of the cake a little fun favor for the guest to take home. I'd originally planned to make a polymer clay Elmo as the cake topper, but wasn't happy with my results. I then thought about using one of the kids' Elmo toys, but the ones we had didn't seem like a good fit for the cake. Hubby happened to scoop up the Count toy when he was bringing me Sesame Street things, and I realized that was a great alternative to go with the number candle. I washed the toy, and I also put a barrier of foil between the figurine and cake to keep everything clean.
Felt Board Birthday Cake
This felt board cake is where I try to sneak in some educational stuff: letters, numbers, math, etc. It purposefully isn't Sesame Street-themed, so I'll be able to use it for other upcoming birthdays. I used my Silhouette to cut out a cardstock pattern like before, then cut the pieces out from various colors of felt. I used Sharpie and puff paint to add the decorations.
Whew! I enjoyed using my Silhouette cutter as part of the preparation for the party, and I got lots of compliments. It seemed like everyone enjoyed the birthday party, especially the birthday girl. (She keeps singing "Happy Birthday" to herself!) And hopefully I'll have a successful cake topper to show ya next time around!
Note: For some reason, my blog comments aren't working right now. I've got a website overhaul in the works. In the meantime, drop me an email or hit me up on Facebook or Twitter if you have questions or comments.