Posted by Angela Mabray on September 20, 2006 at 11:53 AM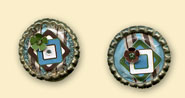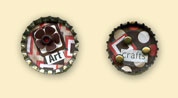 Our library system has some of the best classes! Last night I went to a Bottle Cap Creations class taught by local artist Kiona Millirons, where the library provided us not only with free instruction — but also free bottle caps and all the free supplies we needed to make a belt, bracelet, pin, pair of earrings — or whatever. How cool is that?
I decided to make a couple of magnets (the blue ones in the picture) and a couple of pins (the "Art" and "Crafts" collages). They were fun and very easy to make. Here are the basics:
Get a bottle cap. Used caps works for many projects, or you can get new ones from bottling shops, eBay, Hobby Lobby, etc.
Use a hammer and nail to (carefully) punch any holes necessary for your project. For necklaces and earrings, you'll want a tiny hole for a jump ring near the top. For belts or bracelets, you'll want a larger rivet-sized hole in the middle.
If you want a flattened, framed look (like my blue ones), you'll need to hammer the edges flat. It's easiest to start with a cap where the edges are already flared out. Put the bottle cap, open side down, on a flat surface and use a hammer to pound around the top. Once you've sufficiently smashed the cap, you'll end up with a cool framed edge. Update: See comments for cap-flattening clarification.
Use scrapbook paper or some old magazines for images. A great tip Kiona shared with us is to use a template (see picture) to figure out exactly how much of an image will fit in your bottle cap. Make your own template with card stock, making the circle hole just a little larger than the bottom of the bottle cap (my bottle caps were approximately 1"). Then hold the template up against various parts of the image as you decide what will look best. You might be surprised! You can also use the card-stock template to trace your images for cutting — or if you've got one of those handy-dandy circle punches, they work great too. Just cut the paper a little larger than the bottom of the cap, so that the paper comes up around the edges a bit.
Using Mod Podge (or another decoupage glue) and a paintbrush, spread a layer of glue in the open area of the bottle cap. Add the paper and decoupage that down too.
Now get creative. Make a mini-collage. Add some embellishments. Come up with something strange and interesting.
When you're finished adding everything, you can put another layer of Mod Podge on top. Or you can use a dimensional adhesive like Ranger's Glossy Accents if you've added bulkier items to your collage. Just be sure to use a glue that dries clear.
Hot glue a magnet or pin finding to the back, or attach a jump ring to your pre-drilled hole if you're making a necklace or earrings. Wear with pride!
My collages use scrapbook paper (the little cut-out flowers were a design on the paper), beads, and eyelets. I tried rubber-stamping the letter "A" onto the "Art" bottle cap collage before I added the matted flower. But the cap bottom isn't a flat enough surface for stamping, so I couldn't get an even impression. Maybe stamping the paper before putting it in the bottle cap would have worked — though I'm not sure which ink to use to make sure the glue doesn't cause smearing.
I had a lot of fun making these... but the wheels in my mind started turning. I wonder what I could do with bottle caps and polymer clay.
Well, stay tuned & I'll tell you!