Posted by Angela Mabray on September 17, 2006 at 3:15 PM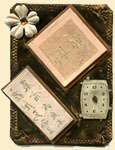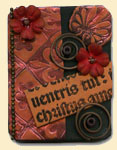 Yesterday I took a Polymer Clay Artist Trading Cards (ATC) class at and Bear Makes 3, a rubber stamp store in Moore, Oklahoma. Our teacher was Deena Parsons, and she was quite a hoot — she made sure everyone had an enjoyable time. We learned the Sutton Slice technique, which I used on my first ATC (on the left). We also did image transfers, which I used for my second ATC (on the right).
I hadn't tried the Sutton Slice technique before, so I was grateful for a chance to try it out. I had a little trouble with my clay sticking in the stamp, but I think spraying the stamp first with water (as the HGTV tutorial recommends) might have helped with that. I was still pleased with the results.
This was also my first time to make Artist Trading Cards. (Read more about ATCs here). They were easy and fun to make, so I'm kinda thinking now I may try some at home. I may even try a swap or two. And while I'm not crazy about the finished cards — I just don't think they're my style — I'm still glad I took the class. I didn't have my normal set of polymer clay supplies, so I didn't do the things I normally do — the things I'm comfortable doing. But getting out of a comfort zone & trying new things is something we should all do more often... as artists and as people.
Of course, it helped that instead of my normal tools I had all sorts of cool tools to play with. Deena had some leather-working tools, which is something I've often thought about getting. After playing with the leather tools, I think I will buy a couple. They work great with clay and will be perfect for impressions in faux leather. Deena also had cute little paper flowers that I hadn't used before, and a great collection of watch faces that I just loved.
And best of all? She took everything — all the stamps, tools, and embellishments — and spread them out over a big table so we could see the goodies. I've noticed before how much more fun it is to see all your materials spread out and pick from amongst them, than to try to work from memory of what's in your drawer or closet. I just finished cleaning up my craft room, so I'm not sure this is a lesson I want to apply at home. But it's fun when it's someone else's mess to clean up afterwards!
Overall, I was impressed with the store and its classroom area. The room was spacious and comfortable. The atmosphere was casual and supportive. They even had a stocked fridge you could pay to get drinks from. And the store? Well, let's just say if I didn't live 40+ minutes away, it would quickly become a favorite. It's got all those wonderful things I get frustrated trying to find at the larger craft stores. ("What do you mean, Hobby Lobby doesn't carry stamp positioners?") So if you're in this area, I definitely recommend the and Bear Makes 3 store and classes.
Anybody got any polymer clay ATC's you want to trade?