Posted by Angela Mabray on November 18, 2008 at 10:54 AM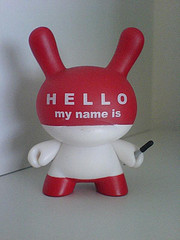 As some of you may know, I work from home, splitting my time between blogging, crafting, and freelance web development. As part of the latter, I recently had the pleasure of attending an "un-conference" called Open Beta here in Oklahoma City.
Open Beta was set up as an opportunity for local web professionals with different specialties to connect with each other. See, while there are several groups in this area for tech professionals, they all have their specific niches: web designers, Ruby on Rails developers, Java developers, etc. There's never been one event for these people with different specialties to meet up and exchange ideas... until now. Open Beta gave people a chance to share what they were doing and see what others in the community were doing. It gave us a chance to meet folks we might not have otherwise. And it allowed everyone to get excited and inspired by the ideas of others.
I love being surrounded by creative people sharing their creative ideas. The excitement and energy is so contagious! And so I came away from Open Beta, not only having made connections with other local professionals that I may be able to work with in the future, but also totally inspired to hit the ground running with my own ideas.
Wondering why I'm talking about this on a crafting blog? Here's the reason:
I'd love to see this happen in the crafting community. We also tend to socialize based on our specific niches — a knitting group, a polymer clay group, an Etsy sellers group, etc. And that's great: it's a good way to learn together with others in your specialty. But it seems like there are very few opportunities to get together and share ideas with a broader group of creatives. Here are the benefits I think such a meet-up would have:
Find out what else is going on in the local community. While I'm aware of things that are going on in the local polymer clay community and a few paper crafts groups, I know I miss out on a lot of other things. It wasn't til I started chatting with a gal at the state fair that I knew there was a local beading group. And I just learned from a Twitter friend this weekend that there's a monthly craft supply swap, an event I've frequently envied in other cities but hadn't realized we had here. If various crafty groups could print fliers or set up info tables at an event like this, think how many more interested folks could get involved in these groups.
Share what you're working on and connect with like-minded folks. Open Beta had both demos (people showing their latest projects) and mini-talks (people talking about ideas or projects). I loved that a couple of the speeches were just ideas — things along the lines of "here's what I'd like to see happen... if anyone's interested in helping me make it happen, let me know." When you share like that, you open yourself up to finding kindred spirits, people who may have had the same ideas as you and want to partner up to make them happen. Things that seemed impossible on your own are suddenly possible. For example, I've wondered about starting a local Church of Craft group, but wasn't sure whether there would be any interest or how to get started. This would be a great place to find out! Same goes if you're thinking about starting a group that donates quilts to a local charity, or any other bigger-than-yourself project.
Just get inspired. I've always been a bit on the shy side, but there's something about being around other creatives that can make me feel instantly connected. Seeing what others are doing and seeing the passion they have for their ideas can be truly inspirational.
So here's what I'm wondering:
If you're in the OKC area, would you be willing to work with me to make this Craft Un-Conference happen?
First a little background on what an un-conference is:
"The name 'unconference' arose to describe conferences that step outside of the more traditional model — that is, presentations selected months beforehand, sponsors buying speaking slots, boring panels of talking heads, and high fees." Unconference.net
There are a variety of different un-conference models (barcamps, foocamps, etc.). I'm imagining an event where, at the very least, groups can share information about where/when they meet and individuals can do talks and demonstrations about their projects or ideas. Some other options include:
An opportunity for folks to sell items, though we'd want to limit the time on that. The sellers shouldn't be stuck behind their tables the whole time and miss out on the conference!
A series of instructional workshops where anyone can share their expertise in any area (whether it's a specific craft, or a related topic like pricing your work to sell).
If you're interested in helping me make this happen in OKC, please contact me. I'd like to start bouncing ideas around.
If you're not from around here, I'd love to hear from you too. Have you been involved in any local events like this? What worked? What didn't? Leave me a comment telling me about your ideas or experiences.
Update: I've set up a new website for this. Sign up for the mailing list at Craftin' OKC to stay posted as plans for the un-conference progress.