Posted by Angela Mabray on September 20, 2009 at 12:19 PM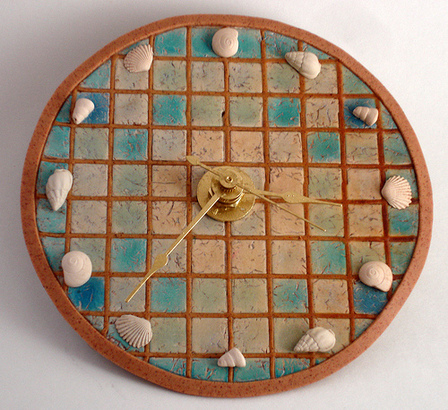 Just a reminder for you folks in the Central Oklahoma area... I would love for you to come to my Polymer Clay Clocks class next Sunday, September 27, 2009. The class is part of Deluxe Craft Weekend, where you can come and craft all weekend, take classes, and have all your meals catered. Sign up for the whole weekend — or just the specific classes you're interested in — here.
Here are the details:
Keeping Time with Polymer Clay: Use polymer clay and a recycled CD to make a beautiful clock, perfect for gift giving or to decorate your own wall. We'll discuss basic tools and techniques with a focus on texture and surface effects. No previous polymer clay experience is necessary. All necessary supplies and materials will be provided, but feel free to bring along any polymer clay tools you already have.
Date: 6-9 p.m., Sunday, September 27th, 2009
Cost: $30
Sign up here.
You can see more sample clocks here.