Posted by Angela Mabray on June 16, 2009 at 11:27 AM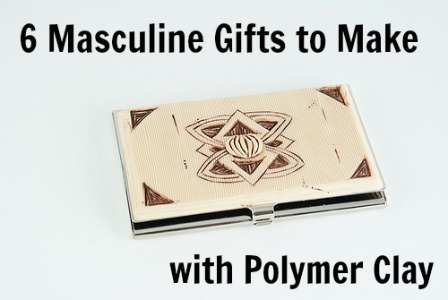 Crafting handmade gifts for men takes a little extra creativity — guys don't always appreciate delicate, flowery things. Fortunately, polymer clay is an incredibly flexible medium that offers a lot of options for masculine projects too.
Here are a few gift ideas for the men in your life:
1. Pen Set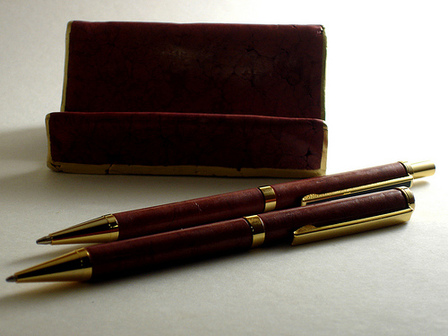 Pens are one of the quickest polymer clay projects to make, and they can be really classy-looking gifts, especially if you use a pen kit. (See my pen kit tutorial for instructions.)
I'm a big fan of Boston Craftwork's Amazing Twist Pen, because it's so easy to put together — no pen press or pounding required. If you don't mind a little assembly work, they also sell a Mechanical Pencil that looks great paired with a matching Amazing Twist Pen. Or if your guy's a more on-the-go type, he might appreciate the Mini-Keychain Pen from Penn State Industries. Each kit costs about $3.50 plus shipping, so these are very affordable gifts.
2. Business Card Case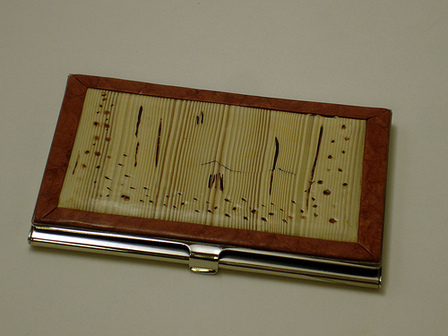 If your gift is for a business man, cover a business card case with polymer clay. (You can find instructions for the carved business card case pictured at the top in my book, Polymer Clay 101
.) Or you could make a business card holder for his desk, using either this Card Couch tutorial or one of these ideas for inspiration.
You can buy business card cases to cover for $3-5 plus shipping at Boston Craftworks. You can buy desktop card holders to cover at office supply stores.
3. Clock
Clocks are a good functional gift for home or office. Check out Irene Semanchuk's clocks or the many clock links on Glass Attic for inspiration. There are also several good polymer clay projects in The Ultimate Clock Book
.
4. Coaster Set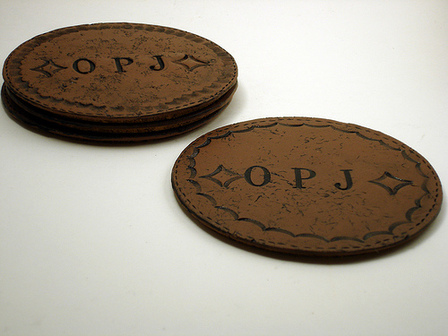 Sticking with the office decor theme, what would look better on your guy's desk than a set of personalized coasters? Go for the faux leather look, or use rubber stamps to create your own themed coaster set.
5. Photo Frame
Fill any photo frame with a picture of the family, and any husband or father will be proud to display it. That's even more true if the frame is a polymer clay masterpiece. You can cover a store-bought (or recycled) wooden or metal frame. Or you can use
this method
to make an all-polymer frame.
6. Bookmark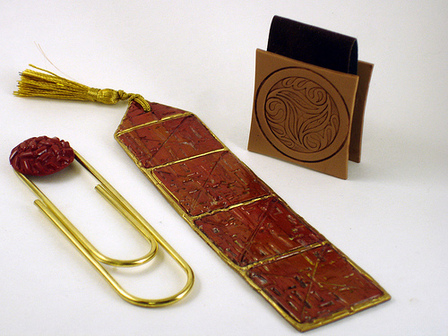 If your gift recipient always has his nose in a book, he might enjoy a polymer clay bookmark. There are lots of options for personalization. If he likes sci-fi, decorate a paperclip bookmark with a creature from his favorite author. If he's religious, stamp a favorite verse of scripture into the clay. (Here's an overview of how to make each of the bookmark types above.)
More Tips for Masculine Projects
Fauxs are your friends. Faux techniques are great for masculine projects. Here are a few that would work particularly well for any of the projects above:

wood
ivory/bone
jade
bronze or silver
onyx
leather
marble
burled red maple

Try Dean's Faux Surfaces in Polymer Clay or Blackburn's Making Polymer Clay Beads for great faux instructions.
Personalize it. The best thing about handmade gifts is that they can be very personal. You can use your guy's favorite color, incorporate his favorite hobby, and even inscribe his name or initials. (Here's a tutorial for making a polymer clay name stamp.)