Posted by Angela Mabray on June 22, 2009 at 10:46 AM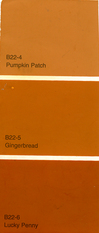 My birthday's not til August, but I already know that I'm getting a great gift from my mom. She offered to paint my craft room for me. It's something I've wanted to do for at least a couple of years, as this old blog post from the archives so pointedly reminds me. Once we had Sam, I wondered how projects like that would ever get done. So I was thrilled when my mom offered.
I'm pretty sure I'm going with an earthy orange. The orange swatch above is my current fave. I'll probably also add some shelves (the bookcase is overflowing, plus there are some thing I've made that I'd like to display). And I've got a few ideas for wall decor — even some including polymer clay. (Surprise, surprise!)
Something I'll be paying close attention to is lighting. Darker walls can make the room seem darker, and I like to have as much light as possible while I'm crafting. Full spectrum lighting is supposed to be best for crafting since seeing true colors is important. I already have full spectrum overhead lights, but it would be nice to add some stylish task lighting. Bob Vila has this handy overview on task lighting, including what types of lights to use and where they should be located (to the left side for right-handed people, the right side for left-handed people).
All Modern has agreed to offer a lighting giveaway here, allowing the winner to choose any of their desk lamps up to $100 in value. I've looked through their lamp options, and they have a nice selection — brands like Knoll, Herman Miller, Artemide and Blu Dot. My choice would probably be one of their full-spectrum lamps — either the George Kovacs Comfy Eyes Desk Lamp or the Comfy Eyes 1 Light Full Spectrum Floor Lamp. Or I might go with something that fits the room's style better, replacing its current bulb with a full-spectrum bulb.
Giveaway Details:
One winner will receive a desk lamp with a value of up to $100. For your 1st entry, answer this question in the entry box below: If you were re-doing your crafting area, what's one thing you would change? (Or tell me one thing you love about your current crafting area.)
For a 2nd entry, visit the All Modern site and decide which lamp you would choose if you won. Then come back and tell me by leaving a second comment in the entry box.
Limit 2 entries per person. U.S. residents 18+ only, please. Entries must be received by 11:55 p.m. on Sunday, June 28.