Posted by Angela Mabray on August 5, 2009 at 10:23 AM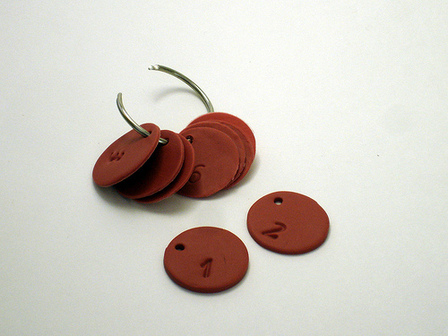 If you've ever tried to give someone directions for how you made a polymer clay project, you probably ran into that question: "What pasta machine setting did you use?"
It's not an easy question to answer. First of all, various pasta machine brands have different settings.
Some have #1 as the thickest setting.
Some have #1 as the thinnest setting.
Some have 9 settings.
Some only have 6. (Is my Atlas 150 the only one that just has 6, by the way? Is it just a really old model?)
Aside from all that, it can just be darn hard to remember what setting you used. Oftentimes for me, I kept going til my sheet was big enough for whatever it was I was covering, without regard to how thin it ended up.
Just in case you ever find yourself in the same boat, here's a quick project that may help you tell (after the fact) what setting you used. It can also be useful for comparing two different machines &mash; for example, to help tell your friend with a Makins machine what setting she should use to match your Atlas's #2 setting. Or if you're trying to plan a project that requires a specific thickness, you can use these disks to find the perfect one.
Materials
polymer clay
pasta machine
cookie cutter
number rubber stamps or needle tool
drinking straw for poking hole (optional)
Instructions
Extra Tips
If you're making several cheat sheets, use a different color of clay for each pasta machine to avoid any mix-ups. Use a Prismacolor marker to write the brand of the pasta machine on the back of the thickest disk.
If you need to have accurate measurements, you could write the actual thickness of each disk on the back with a marker.
Now when someone asks you what pasta machine setting you used, you can just compare your project's thickness to each disk til you find the right one.