Posted by Angela Mabray on September 9, 2009 at 3:16 PM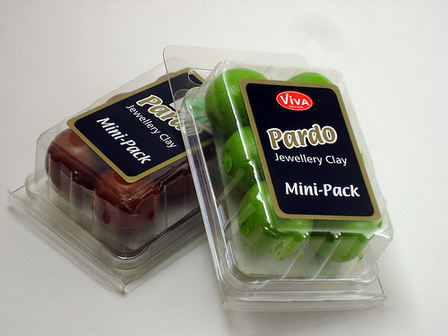 I'll be honest with you. I've had a packet of Peridot-colored Pardo Jewellery Clay sitting on my desk ever since the IPCA Retreat in July, just waiting for me to dig in and try it. Actually it sat on my desk a few weeks, then got demoted to my desk drawer, then to my storage cabinet. I usually enjoy trying out new clays, so even I was surprised when my guild members asked me about it, and I remembered I hadn't even opened the package.
My reluctance to review it here stemmed from two things. First, the cost. The Pardo clay is significantly more expensive than the brands we've already got. Second, I felt that the manufacturer was doing a really poor job with their distribution of the clay. They initially listed a contact person at one U.S. company, but I never got a response despite sending multiple emails. The primary U.S. supplier seemed to be having a hard time getting shipments in to fill her orders. So I didn't feel like it was important to review a product that was overly expensive and difficult for the average clayer to get their hands on.
BUT when I saw that my local Hobby Lobby was now offering it alongside their other polymer clays, I figured I ought to give it a try.
Pardo Clay Overview
In case you haven't heard of it yet, Pardo clay is made by
Viva Decor
, a company in Germany. They have 70 colors, including many metallics and colors with glitter inclusions. Since it's a jewelry clay, most of their color names are based on precious metals and gemstones. A unique feature about the clay is that it includes beeswax as one of its ingredients. The clay is sold in 2 sizes: a 2.7 oz. jar and a 1.2 oz. mini-pack.
Cost
My Hobby Lobby has the 2.7 oz. jar for $4.99 and the 1.2 oz. Mini-Pack for $2.99. (If you don't have Hobby Lobby in your part of the country, you can order the jars from Poly Clay Play for $4.95 plus shipping.) Since Hobby Lobby prices Premo at $2.47 for 2 oz, this means Pardo costs almost twice as much as regular-price Premo clay. (And cheap as I am, I wait for clay sales so I don't have to pay regular price for Premo!) The cost factor by itself puts Pardo out of the running to be my preferred clay brand.
Colors
The range of colors is one of the things they really stress in their advertising, and I have to say I was impressed with what I saw, specifically the metallic colors. I bought a package of Tiger's Eye, and it looked almost like it had several colors of Pearl Ex powders mixed evenly throughout. It gave the clay a real depth and seemed much prettier than Premo's metallic colors. If Tiger's Eye is representative of their other metallics, I can definitely see the appeal.
Keep in mind, though, that the local stores are carrying a very limited supply of colors, at least right now. Here's what my Hobby Lobby had available:
1.2 oz Mini-Packs (14 Colors):

Ivory
Nacre / Mother of Pearl
Topaz
Orange Calcite
Thulit (dark pink)
Ruby
Amazonite (green)
Lapislazuli / Blue Sapphire
Tiger's Eye
Agate with Gold Glitter
Turquoise with Gold Glitter
Olivine with Gold Glitter
Lavender Jade with Silver Glitter
Coral with Gold Glitter

2.7 oz Jars (4 Colors)

Silver
Gold
Onyz (black)
Bronze
Unless local stores start carrying more colors, that means most of the color range is only available online, which adds shipping costs to an already-expensive product.
Packaging
I've seen various opinions about the packaging. The jars and mini-packs are a hard plastic instead of the flimsy wrap we're used to seeing. On one hand, that offers some protection from dust and hair once you've opened a package. On the other hand, that makes multiple packages a little bulkier to store. Some folks are concerned about the plastic taking up landfill space. Granted, the plastic packages are recyclable if your city has a recycling program. Some folks even like the jars for storing other things once the clay is gone (their craft areas obviously have more space left than mine). My thoughts? If I were using this clay as my main brand, the storage would become an issue. But besides that, it doesn't matter much to me one way or the other.
While we're talking about packaging, the other thing I've heard people comment on is that it comes in small balls instead of blocks. Some people seem to like that it's easier to measure small portions that way. Some people prefer slicing what they need off a block. Really makes no difference to me.
Conditioning
The Pardo clay is easy to condition straight out of the package. The fact that they package it in small balls may help slightly with that, since it's easy to grab a manageable amount.
Workability & Stickiness
This is a very soft clay — I found it much softer straight out of the package than Premo, and maybe even softer than Sculpey
III.
This was actually my main problem with the clay (besides the price). It distorted easily when I tried cutting with a clay knife. When I tried extruding snakes, they stuck together. And it attracted fingerprints: one would probably need to work with gloves, smooth it down before baking, and/or sand after baking to avoid a fingerprint-covered piece. It just seemed really sticky to me.
On the other hand, it was a clean sticky, if there can be such a thing. When I washed my hands with soap and water after using it, my hands felt completely clean. There was no residue like I sometimes feel with other clay brands.
A note on the softness: I'm not much of a caner, so I didn't try that. I've read reviews saying it was too soft for caning, and I've read reviews saying people caned with it successfully. From what I've heard, Pardo's manufacturer has teamed up with Lisa Pavelka, and they're considering adding a firmer clay to their line, one more suitable for caning.
Molds & Textures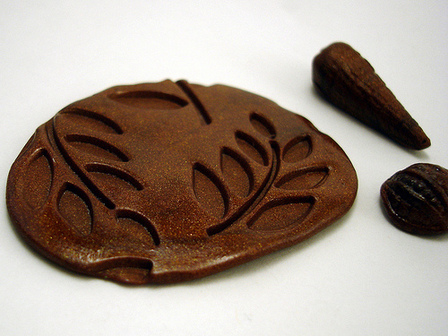 I tried the Pardo clay in a few of my Amazing Mold Putty molds. While it took detail well, it tended to stick in even the nonstick silicone molds. The clay is not firm enough to pop out like some other clay brands would. Refrigerating a few minutes to firm it up would do the trick.
Spritzing it with water before I used a texture sheet led to good results: the texture sheet didn't stick and the clay got a good impression.
Transfers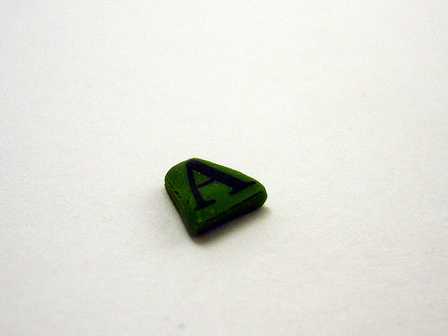 I tried a laser toner image transfer and it worked great. The transfer was nice and dark.
Cured Clay
The cured Pardo clay seems very strong. I did the bend test on a deeply-textured sample, bending it nearly in half multiple times at a weak point. I finally got a hairline crack, but it still didn't break.
For more on the strength of Pardo clay, watch Lisa Pavelka's demo at CHA (the Pardo demo starts approximately halfway through the clip). To quote one of my parent's old favorites, "You can tie it in a knot. You can tie it in a bow."
Surface Treatments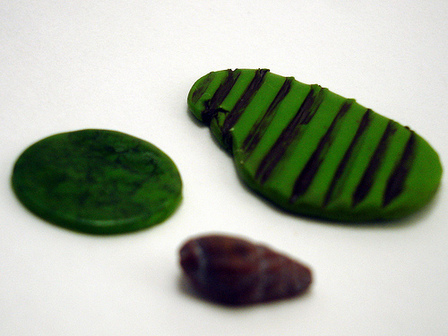 I tried a variety of surface treatments and didn't notice any problems with any of them. The clay responded as expected to Future floor finish, antiquing with acrylic paints, and using alcohol inks.
Summary
Overall, I think it's a pretty good clay. The metallic colors are gorgeous and have a real depth. It bakes up to a strong clay with a nice finish. Some people will really enjoy using it, and I can see the appeal.
I personally don't like the soft sticky feel it has straight out of the package. Of course, that could be modified by leaching and/or refrigerating it, but I don't really see the point. The clay is almost twice the price of my preferred brand and offers no big benefit. If they were able to bring down the price, I might reconsider. As it is, I might splurge on a packet of one of the metallics now and then for a special project. But for me, the price tag means it's out of consideration for my everyday clay.
Additional Reviews & More Info