Posted by Angela Mabray on December 11, 2009 at 3:47 PM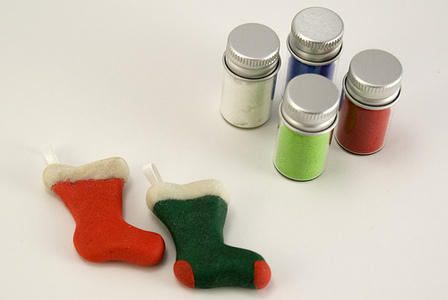 Have you guys played with the little bottles of colored flock that are now available in craft stores' paper crafting aisle? I'm not sure how paper crafters use it (I guess glued onto a project like glitter?), but it's a lot of fun to use with polymer clay.
Sold under various names (Fuzzy Fun Flock
, Crushed Velvet Flock
, Flocking Powder
), flock is basically tiny colored fibers. (Think dryer lint, but without all the cat fur.) You can use flock a few different ways with polymer clay:
Pour a small amount and mix it thoroughly into your clay for a muted mottled effect.
Brush a tiny bit onto the top of the unbaked clay with your finger, much as you would Pearl Ex or chalks. This gives the clay a fuzzy, fabric-like sheen.
Apply liquid clay to specific areas where you want a more pronounced effect. Either pour the flock over your the liquid clay like you would embossing powder, or use a paintbrush to dab the flock onto the areas you want to emphasize. You can even do this after your first baking if you want to protect other clay sections from attracting the fibers.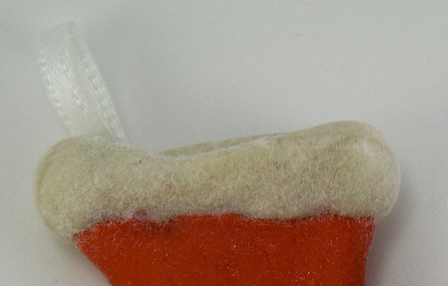 I have tried several colors with each of the above methods. The fibers seem well-adhered after baking, and I haven't noticed any color change from the heat. I love that it gives the clay a softer, more fabric-like look. It's perfect for Christmas-time projects (stockings, Santa's suit, snow), or any other time you want a softer look.
Have you used flock? If so, I'd love to hear about your experiences!