Posted by Angela Mabray on July 9, 2010 at 3:57 PM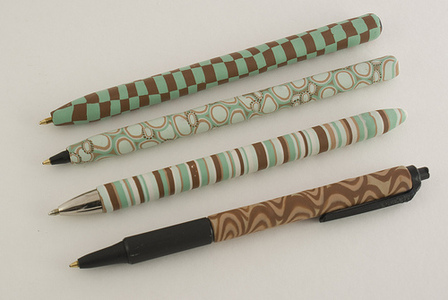 If you've ever gone down the deodorant aisle searching for the same one you bought last time, you've experienced it: manufacturers' incessant focus on new and better. It seems like a product's packaging hardly ever looks the same from one purchase to the next.
Pen manufacturers are no different, so the pens that were "proven" oven-safe a few years ago — like my previous favorite Papermate Flexgrip Ultra — may no longer be available. And while new and better options may be out there, who has the time and money to test every new brand of pen to see if it's oven-safe?
Luckily, Surfingcat did the hard work for us in her post about melting pens. She tried eleven pens in the oven and came up with a list of six that survived at polymer clay temperatures.
I decided to expand on her post a bit, to give a little more info about four of those pens that are readily available here in the U.S.:
PaperMate Comfortmate ball point pen
Bic Round Stic ball pen
PaperMate FlexGrip Elite
Bic SoftFeel Retractable ball pen
I made a polymer clay pen with each of these brands to get a feel for how easy they are to take apart and put back together. (Read the basics on covering pens here.) I'm including "finished" shots so you can get a feel for the aesthetic of each completed pen. My samples use cane slices since I'm practicing getting comfortable with canes (as you can tell, I have a long way to go!). But of course, you're not limited to canes. In fact, the options are pretty much endless. (For some extreme examples, take a look at Linda Peterson's PolyPens book
about making pen sets.) For each pen, I've also included photos of the packaging (so you know what to look for on the shelves... well, at least until they change that packaging!), the un-covered pen, and the pen after it's been taken apart. (Click any photo for a larger version.)
The Pens
Paper Mate Comfortmate
BIC Round Stic
Paper Mate Flexgrip Elite
BIC Soft Feel Retractable
Got a favorite oven-safe pen that's not listed here? I'd love to hear about it. Ditto for pen-covering suggestions!