Posted by Angela Mabray on March 5, 2007 at 8:48 PM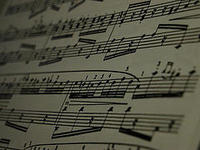 Polymer Clay Central has announced their March 2007 Challenge theme: Face the Music. Lots of ways to interpret this one:
Take it literally. Make something with faces and/or music. Try Free Sheet Music for royalty-free sheet music, or check out these Antique Music Brushes for Photoshop.
Take it figuratively. The idiom "face the music" means to confront the consequences of one's actions. An interesting theme for a sculpture...?
Take it to the movies. IMDB lists several movies and TV shows called "Face the Music." It's also the title of a 1975 album by Electric Light Orchestra. Maybe you could draw inspiration from one of these?
Mail your entries in by March 15, 2007, for a chance to win one of three gift certificates to The Clay Store.
Speaking of music, I saw another cool swap-bot swap: the Music to Craft To CD swap. A fun way to share the music that inspires your creativity!