Posted by Angela Mabray on July 2, 2008 at 10:50 AM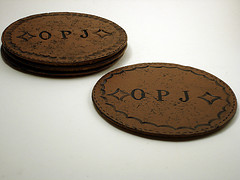 I love that Irene Semanchuk Dean's Faux Surfaces in Polymer Clay book has two parts for each imitative surface: first a recipe, then a project. Not only does she show you how to mix up a realistic-looking mother-of-pearl, but she also shows you how to incorporate that into a typical mother-of-pearl inlay project, enhancing the perception that it's the real thing.
Her book helped me look at faux in a whole new light. It's not only how good the surface looks — it's also what you do with it. Your faux turquoise surface may look perfect, but you have to consider shapes and sizes of natural turquoise if you want to really hit the mark with your finished project. If a stone is typically carved, then digging out your carving tools after baking will help make it look more realistic.
And the same applies to leather. If you lived through the 70's, you probably had a leather kit with carving tools and hand stamps. So what says leather more than those familiar motifs?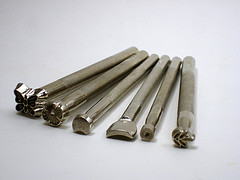 Available at some craft stores or online, leather-working tools are a great addition to your polymer clay stash, especially if you want to give faux leather a realistic look. The nice part is that polymer clay takes the impression of these stamps much more easily than leather. (If you have trouble with the metal tools sticking to your clay, try dusting the clay with cornstarch or spritzing it with water first.)
Some of the tool kits also include patterns. Mine had great tips for combining individual stamps to create borders and other designs. Using their ideas made it easy to create good-looking designs that have a definite leather look to them. (You can also find free leather patterns on Tandy's site.)
I got my set of 7 Tandy leather tools at my local Hobby Lobby for $16.99 and have really enjoyed them. Combine these tools with this great leather recipe from Polymer Clay Web for a fun faux leather look.