Posted by Angela Mabray on June 26, 2008 at 2:33 PM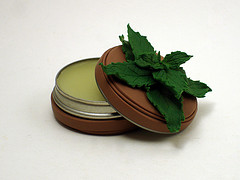 Recently, my dentist's office started including a spearmint lip balm along with their normal care packet of toothbrush, toothpaste, and floss. I'd never tried spearmint lip balm before, and I fell in love with this particular one. I used it daily (at least) and ran out well before I was scheduled for another dentist's appointment. After searching the internet, I found that the maker only sold it in large quantities as a promotional item.
Faced with the options of:
A) buying 500-1000 tubes of lip balm
B) scheduling an extra trip to the dentist, or
C) trying to make some lip balm of my own
... well, let's just say it was an easy decision! And fortunately it turned out pretty well.
Here's some tips on making your own homemade lip balm (with fresh spearmint leaves), plus instructions for making a perfectly coordinated spearmint tin out of polymer clay to put your balm in. Use spearmint straight from your garden to give an extra-special touch to this wonderful homemade summertime gift!
Minty Lip Balm Tin
You have to pour the lip balm into its final container to set, and you don't want to be decorating — and baking! — a container that's already full of lip balm. So let's start by decorating the tin.
Materials
Lip balm tin: I got mine from Specialty Bottle (Item

TNF1

/2), but you might be able to find something locally or creatively re-purpose something you already have.
Polymer clay (green and brown): For the leaves in particular, use only a strong brand of clay. Sculpey

III

is too fragile for this project.
Sprig of fresh spearmint
Acrylic brayer, clay blade, polyfill
Optional: Pasta machine, round cookie cutter, clay extruder
Instructions
Use a pasta machine or brayer to roll out a medium sheet (3rd or 4th thickest pasta machine setting) of brown polymer clay. If you have a cookie cutter that's the same size as your tin's lid, use this to punch out 2 clay circles. If you don't have the right size of cookie cutter, you can place the lid upside down on the clay and trace around it with a clay blade.
Separate the top and bottom halves of the tin. It's easier to work on them separately — plus this way you can make sure you don't accidentally seal it shut! To cover the top half of the tin, apply one clay circle to the top, making sure that you pop any trapped air bubbles.
If you have a clay extruder, use a flat ribbon disc to extrude clay for the tin's edge. If you don't have an extruder, just cut a thin ribbon from your clay sheet. Apply the clay ribbon to the tin's side, gently smoothing the spot where its ends meet.
Extrude a very thin snake (or roll it out by hand) to fill in the gap between the top circle and the side clay ribbon.
Repeat steps 2-4 to cover the bottom half of the tin.
Use your pasta machine or brayer to roll out a very thin sheet of green clay (I used the next-to-the-thinnest setting on my machine). Choose the spearmint leaves you want to copy. Clean them first if they're dirty, then spritz them with water. Place them onto the clay sheet so that the back of the leaf is pressed into the clay. Use your brayer to roll the leaf into the clay, making a very good impression of the texture. Now use your clay blade or a needle tool to trace around the edges of the leaf. Depending on the clay you're using, you may even be able to skip the blade and just tear away the clay from the edges of the leaf. Once you've cut out the polymer clay leaf, peel the actual leaf off the top. Repeat for as many leaves as you want (I made 10).
Gently place the leaves on the top lid of your tin. Larger leaves go on bottom; smaller leaves go on top. I added a ball of clay between one of my layers to give it added height. To make sure the leaves don't droop during baking or stick together where they shouldn't, I recommend adding small amounts of polyfill to your assembly.
Before baking, make sure there's no clay along the lip where the two parts meet. Trim anything that would keep the tin from closing properly. Now bake the two pieces, still separate, according to the clay manufacturer's instructions.
Wash the container thoroughly, then dry it to prepare it for the balm.
Spearmint Lip Balm
I'm pretty new to this part, so I'll just point to the recipes I used and add a couple of tips.
I started with this Fresh Spearmint Lip Gloss recipe, using almond oil and beeswax (which I found at a local health food store) and spearmint from my garden. I doubled the recipe, which gave me enough for one tin, one tube, plus a little extra on the side.
While I mostly followed the above recipe, I also added honey because this Chocolate Lipgloss Recipe mentioned it and it sounded sweet and yummy. The honey didn't work so well for me, but it could've just been my inexperience. It didn't mix in well with the other ingredients: I noticed some separation in the last container. Course, I wasn't expecting to need that last container, so the mixture cooled a bit while I searched for something. Re-melting and re-stirring it might have prevented the separation.
So my newbie's tips for success on the lip balm?
Have enough containers on hand! :-)
Melt well. Mix well.
Use a funnel. Pour into containers before the mixture has a chance to separate.
Variations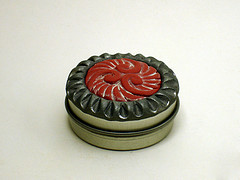 For even more of a gift, create a whole set of matching items. Here's a lip balm tin I made to match my
Bottle Cap Necklace & Card
.
Your gift recipient will be positively wowed!