Posted by Angela Mabray on August 22, 2008 at 3:42 PM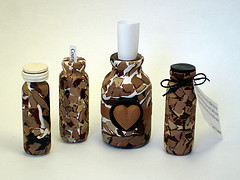 I've been finishing up some Bottles of Hope for my guild, and I thought it might be useful to talk about some tag options.
For any of you who aren't familiar with Bottles of Hope, they're bottles that are decorated with polymer clay, then given to cancer patients. (For more info, read about Bottles of Hope or watch my video tutorial.) The name "Bottles of Hope" comes from the practice of writing wishes and putting them inside. As program founder Diane Gregoire explains:
"I told my friends to just make a wish, write it down and put it in the bottle, and it would come true. I don't know why, but we all just believed this... maybe because we just wanted to, or that it was something to hold on to."
And while many polymer clay artists choose to leave their bottles empty so cancer patients can fill them with their own wishes, a lot of artists like to include their own special quotes for the bottle recipients. If you're interested in putting a message of hope with your bottle, here are a few options for how to do it:
Ways to Enclose the Message
Message Ideas
And what should you write (or print) on the slips of paper? It's totally up to you: use anything you think would be inspirational to someone.
The Bottles of Hope site has

PDF

s of various quotes you can print and include. See Tags [PDF] and More Tags [PDF] on this page.

A friend and cancer survivor offered me one of her books to use for tag inspiration: The Language of Courage and Inner Strength. It's full of courageous quotes that work well. Here are a few of these quotes I've formatted to print for Bottles of Hope: Courage Quotes [PDF].

Many similar quote books are available. Check your library or local hospital gift shop, or just search Google for inspirational quotes.

Some of the best bottles I've seen have a quote that fits the theme of the bottle. This is sometimes easier to do if you find a quote you like first, then create a bottle that embodies that theme.
Of course, the love that's shown by making and donating these handmade bottles is often enough of a message. So don't feel obligated to add a written message to every bottle.
I'm fairly new to Bottles of Hope. I imagine those of you who have worked with them longer have some other ideas for both how to include a message and what types of message work best. I'd love to hear your suggestions.