Posted by Angela Mabray on October 24, 2008 at 10:17 AM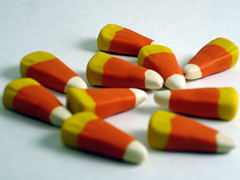 Halloween's just a week away, and you know what that means... All the stores are filled with a bountiful harvest of this year's candy corns. (My husband swears this is an actual crop!) Here are a few ideas for using this colorful candy of the season for some crafty decor:
Here's hoping you have a crafty weekend full of yummy-looking goodies. I should warn you, though. Polymer clay candy corns may seem like a low-calorie way to keep these festive candies around. And it could just be me. But it seems like the longer I work with the faux candies, the more likely I am to break open a bag of the real thing!