Posted by Angela Mabray on December 29, 2008 at 11:24 AM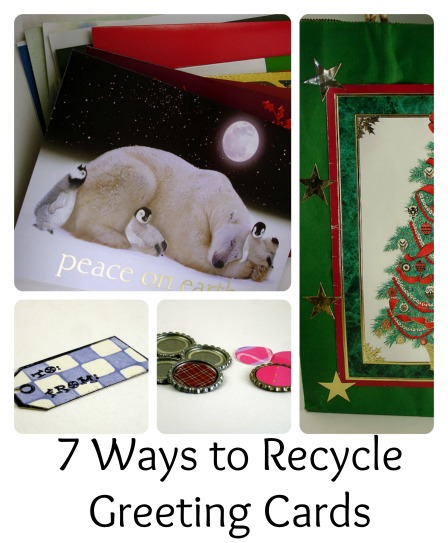 I go through the same mini-crisis after every birthday and holiday... what do I do with the cards people sent me? Granted, it's a slightly easier decision if it's just a signature on an unattractive card — to the recycling bin it goes. It seems like there aren't that many that are like that, though. Some have handwritten notes from friends or family members. Some have gorgeous images, or paper I know I could make something out of.
Those are the cards that are trouble. Those are the ones that I have piles and piles of in closets and drawers.
Just in case I'm not the only one who tends to hoard cards, I thought I'd share a few tips for using these cards in a good, constructive way. Whether it's Christmas cards, Valentine's Day cards, or note cards, hopefully one of these ideas will help you "upcycle" your old cards into something even better.
1. Make Bottle Cap Ornaments or Jewelry
Some of the smaller focal elements on cards work great for making bottle cap ornaments. Background patterns often work well for understated jewelry or the background of a collage piece. Start by using a 1" hole punch or circle template to cut out the image you like best. To create an ornament, use decoupage glue to adhere the image to the bottle cap, then poke a hole for your hanger. For jewelry, see my post on
making easy bottle cap jewelry
.
2. Make Garland or Window Dangles
While you've got your circle punch handy, try Sister Diane's Craft Stylish project:
How to Recycle Old Holiday Cards into Garland
. This would also be cute with pink and white ribbons and some recycled Valentine's Day cards.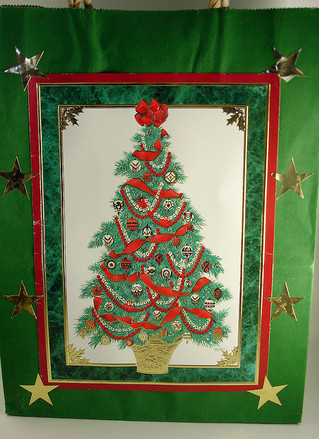 3. Decorate a Gift Bag
Use one large image from the card — or even the whole card — to spruce up a plain gift bag. Add stickers,
a ribbon handle
and some coordinating tissue paper for an extra-nice touch.
4. Make an Advent Calendar
Along the same lines, you can use large images to create pockets for a
recycle bin advent calendar
like Kristy's at craftastica. I love that every part of the calendar is recycled, including using the big "sale" numbers from ad circulars for the dates. Very cool!
5. Make a Tree Topper
While you're ambitiously preparing for
next
Christmas (didn't I hear you promise not to wait til the last minute again?), check out Jenny Harada's
DIY

Holiday Card star
. She even includes the patterns, so there's no guess work!
6. Make Gift Tags
Stephanie at Garden Therapy has a good post on
recycling cards into gift tags
, using just a tag punch (or pair of scissors) and a hole punch. You may even be able to snatch up some clearance-rack "To/From" stamps this time of year for even easier gift tag creation (I found
mine
for $1.50 yesterday at Wal-Mart). Of course, this doesn't apply to just Christmas cards — think gift tags for birthdays, weddings, etc. Any writing on the back of your gift tag can be covered by gluing a piece of paper over it.
7. Make New Cards from Old
Cut out a decorative element from the card you want to recycle. Now use it in a completely different way in your own design. Background patterns can be recycled into great contrasting borders. The more parts of the old card you use, the more bonus points you get!
Course, none of this helps with the problem of wanting to save handwritten messages from someone. One option is to scan it in. Then you can use it as wallpaper on your desktop, or in a folder of images you look at frequently to cheer you up — which is probably better than putting it in a shoebox you'll never open again anyway.
Of course, if you just can't bear to cut the card apart, you can always use this tip from
John Kinde
:
"Save the holiday cards you receive this year and "recycle" them next year. Just cross out the sender's signature, sign your name, and mail it back to the person who gave it to you. You'll start a humorous tradition."
Which started me thinking... if you create something really different and crafty and clever from a card someone sent you, could you give the resulting thing back to that person? Or is that too weird...? What do you think?
And of course, I'd also love to hear your favorite way to recycle greeting cards!
Update 1/1/09: Email subscriber Janet sent this tip along for making boxes from recycled cards:
I make these small boxes.They don't hold much but they are cute. Find a focal point and use that for the center of your box. You can get folding instructions anywhere on the net.
These box-folding instructions and template looked easy to follow. Thanks for the tip, Janet!
I also came across this Recycled Card Ornament idea after I posted. Make these themed ornaments using recycled gift cards or even old photos. Lots of cute ideas for crafty re-use!