Posted by Angela Mabray on March 20, 2009 at 4:53 PM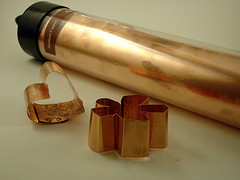 Cookie cutters are great tools to use with polymer clay. They're inexpensive and come in lots of great shapes. But occasionally you find yourself needing a special shape or size that's not available. While you can buy cookie cutter kits
, here are three alternatives for making your own cookie cutters with supplies you probably have around the house.
Foil Pan Cookie Cutters: Check out wikiHow for aluminum pan cookie cutter instructions. Lesley Shepherd of the About.com Miniatures channel uses foil pans for her mini cookie cutters too, but her instructions also include tips for making custom handles from polymer clay. The nice thing about foil pans is that they cut easily with scissors. The downside is that the cookie cutters aren't very strong — though they'll be a little more durable if you follow Lesley's instructions and fold your foil strips in half first.
Metal Ribbon Cookie Cutters: Peggy Weaver of What's Cooking America has instructions for making cookie cutters with copper ribbon. You can also use embossing metal cut to size — I used medium weight embossing copper from the craft store (a 9" × 12" roll cost about $7). I was still able to use plain scissors to cut these, but the copper makes the cutters a little more durable than the foil pan cutters.
Cookie Tin Cookie Cutters: If you want something even sturdier, try ReadyMade's instructions for creating cookie cutters from recycled cookie tin lids. Basic scissors probably won't work here (the article recommends tin snips), but the end result should be much stronger.
And here are a few extra tips for success:
Use a good double-edged ruler to measure and mark the lines for cutting out your cookie cutters. It's important to make sure the cutter's the same width throughout.
Don't bend the angles too much as you're creating the cookie cutter. I over-bent my first heart shape and ended up tearing the foil.
I liked the wikiHow suggestion for using staples to close the cookie cutter. Super glue also worked well for me on the foil cutters.
Experiment first with simple shapes, and work up from there. Needle-nose pliers are nice for creating sharp angles; pens are good for making curves.
Heed the sites' warnings: gloves are a really good idea!
Finally, check out these sites for more cookie cutter fun:
Juggling Frogs has tips for making a bulk cookie cutter. While she's using tuna cans, you could use custom-shaped cookie cutters instead. Handy anytime you're doing mass-production work!
And Tipnut has a great collection of cookie cutter resources, including fun project ideas like making cookie cutter soaps or crayons.
Do you have any fun suggestions for making or using cookie cutters? I'd love to hear them — just leave a comment!