Posted by Angela Mabray on July 2, 2009 at 2:18 PM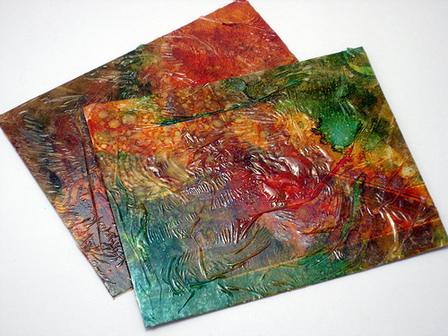 Last time I showed how to make recycled postcards using cereal boxes and crumpled tissue paper. Today I'm taking a cue from these plastic bag prints, using alcohol inks and a plastic bag in a postcard project.
Materials
Paperboard (like from a cereal box), heavy poster board, or card stock.
Plastic bag. Thicker, more opaque bags are better for hiding the pictures and writing on the packaging underneath. If you don't have plastic bags around because you only use shopping totes (good for you!), then you could also use the slick side of a cheap shower curtain. (Thanks to Filth Wizardry's shower curtain play mat for the shower curtain idea.)
Adhesive. A Xyron works great for this project.
Alcohol inks and applicator.
Instructions
Variations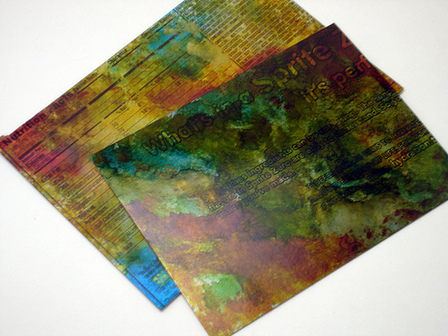 You can skip the plastic bag layer. The shiny side of the paperboard will work, though it's not slick enough to be ideal for alcohol inks. Some of the inks will sink in, meaning you won't have as long to work with them before they're set. The effect is also a little more muted. Still, it's something to play with.