Posted by Angela Mabray on June 26, 2009 at 8:32 PM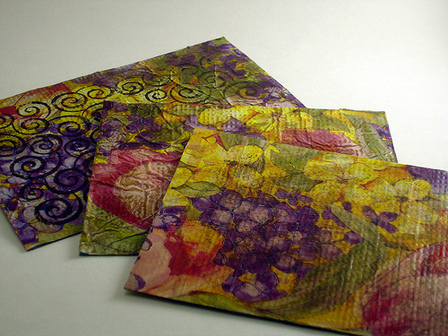 If you're like me and have trouble throwing away possibly-useful things, then you may not even want to read this post. I had a lot more storage room before I realized I could cut up all my cereal boxes and use them for crafty purposes. And I
used
to only keep the tissue paper that looked nice enough to re-use... now I feel obligated to keep even the stuff the gift recipient crumples up and tosses aside dismissively. So, pack-rats, consider yourselves warned. This may be another thing you'll have to find room for in your "nest."
The postcards are made from cereal boxes and recycled tissue paper. Or other stuff (see more suggestions in the materials). And the possibilities are pretty much unlimited.
Materials
Paperboard. You can recycle this from cereal boxes, soda can boxes, Kleenex boxes, etc. If you don't have those, you could use heavy duty poster board or cardstock.
Tissue paper. Old, crumpled stuff works fine. You could also use other patterned paper products, such as paper tablecloths or paper napkins (if using 2- or 3-ply napkins, make sure to separate the layers first)
Adhesive. I used decoupage glue (i.e. Mod Podge or Crafter's Pick) for my project. A Xyron machine or spray adhesive would also work.
Decorations. Stamps, paint, antiquing inks, chalks, glitter, etc. (Nothing 3-D, though, or it won't qualify for the postcard rate.)
Instructions
Variations / More Ideas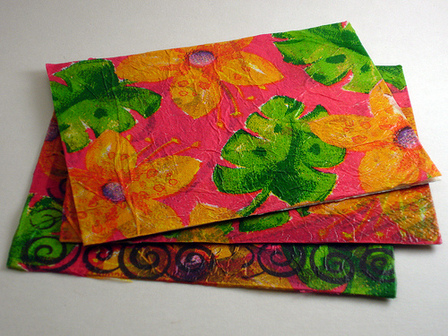 I personally think the plain paperboard surface for the message area looks all earth-friendly... but if you'd prefer a more traditional look, you can glue white scrap paper on the back.
These would be a great gift for a kiddo who's going to camp or a loved one who's going on vacation. Make a matching set for however many days they'll be away, then wrap them up with a coordinating ribbon. Go ahead and add stamps (postcards stamps are up to $0.28 now) to save them the trouble (and to make sure they don't have any excuses!)
We had lots of personalized paper napkins left over from our wedding.You only need so many for keepsakes, so what do you do with the rest? Use this basic idea to create custom Thank You cards with the extras.

OR,

if you're doing a themed kids' party, buy an extra paper tablecloth and use it to make invitations.
I'd love to hear your ideas, too.
Note: You may have noticed I'm using bigger photos in my tutorials. Like it? Hate it? Take too long to load? Let me know if you have an opinion one way or the other.