Posted by Angela Mabray on March 17, 2010 at 1:35 PM
You may have noticed it's been a little extra quiet around here lately. Turns out, book-writing takes a pretty significant amount of time. I turned the manuscript in at the beginning of March, though, and I'm eager to get back to regular life — things like blogging and sleeping and taking showers. :-)
I'll probably tell you bits and pieces about my book-writing experience in the months to come, but for now, I'll start with this story. I was working on a polymer clay image transfer project, and everything went perfectly in my prototype project. But for a variety of reasons (the warmth of the clay, the age of the transfer, etc.), I wasn't having much luck trying to photograph the process. I started project after project, and each of them failed before I could take the photo showing the transfer. At one point, I looked around at the eight(!) false starts and realized my work room looked like the Island of Misfit Crafts. :-)
That's probably the part of book-writing I was least prepared for — all the prototypes and mess-ups and not-quite-good-enoughs. It's a little different from the blogging process: I would normally go about my business, working until I happened to create something good enough to write about here. Having a quick deadline adds a lot of pressure. It's not always easy to come up with projects that demonstrate a particular technique in an interesting and fairly foolproof way. I hope I ended up finding the right balance in most cases, but there were definitely some failed projects along the way. In fact, I've got shoeboxes full of them that I'm just now starting to revisit.
The Giveaway
One of the first projects I came back to was the Mosaic Clock. This is the first prototype I made for the mosaic chapter, but there were various problems with it. First, it was made on a 4" by 4" wooden base with a beveled edge. Now, my craft store happens to carry that, but I doubt it's standard enough that all my readers would be able to find the exact same thing. Second, since it's wood, the reader would have to drill a hole in the middle. And while a Dremel was my favorite birthday present last year, not every crafter has (or likes) power tools. The final problem was that I just didn't know what to do with that beveled border. Continue the tiles? Paint it? Something else?
I left the clock sitting on my desk for a week or two while I worked on some other projects, hoping inspiration would strike. I finally realized I needed to eliminate the wooden base and go in a different direction. So this prototype got tossed into the Misfit Crafts pile. When the next #craftsocial rolled around with a topic of UFOs (Unfinished Craft Objects), several folks had suggestions for how to finish it. And now that I've had a chance to revisit it, I think I'm pretty happy with how it turned out.
Since my craft room is overfull with projects like this, I'm offering this clock as a prize to one lucky entrant (details below). This is my way of saying thanks for being a great community, and for being patient with me during my leave of absence from blogging.
... And The Favor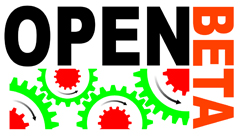 I also have a favor to ask of any of you who are willing. This will not affect your chances of winning at all, so feel free to skip ahead if you like.
My husband and I both have a web development background and are involved in the tech community here in Oklahoma City. There's a conference called Open Beta that's held every 6 months, where folks come together to talk about technology, demo their latest projects, and drink beer. It's full of entrepreneurial spirit and is always very invigorating.
This time around, they held a contest to come up with T-shirt slogans, with a grand prize of an iPad. My husband and I both submitted a few ideas, and it turns out we were both selected as finalists.
My favor is this: Could you please vote to help us win an iPad? It's easy to vote — just tweet this exact phrase:
If you want to see the rest of the entries, you can also vote from the Open Beta site. Click the 'Vote' button to the left of my entry, which is the eighth one down.
(You can vote for a total of three quotes, so if you're feeling generous, feel free to vote for two of the other @smartgoat or @craftygoat quotes while you're there. Between us, we have four of the ten finalist slots.)
Like I said, you don't have to do this to enter the giveaway. But I will be oh-so-grateful if you do. An iPad is one of those things we would love to have, but can't quite justify trying to fit into the budget.
Giveaway Rules and Entry Form
To enter the clock giveaway, just leave your name and email address in the Mosaic Clock Giveaway entry box below (not the blog comment form). These are the rules:
Only United States residents 18 years of age and older may enter.
Limit one entry per IP address, please.
The giveaway starts on Wednesday, March 17, 2010, at 8:00 a.m. and ends Wednesday, March 24, 2010, at 11:55 p.m.
I will email the randomly-selected winner to verify eligibility and get shipping info for the prize. Once it's all official, I'll announce the winner here. Good luck!
Update
Edited to add (3/25/10): Just wanted to let you all know that I won the iPad! Thanks for all of you who voted. I really appreciate it. If you ever need me to return the favor & vote for you for something down the road, just let me know.
Winner Announcement (3/30/10): The clock winner is Iqxs (aka "Mz X"). The clock is on its way. Congrats!